Pro-independence MEP Clara Ponsatí released after arrest upon return to Catalonia
Junts politician failed to appear in court during last visit and did not plan to testify voluntarily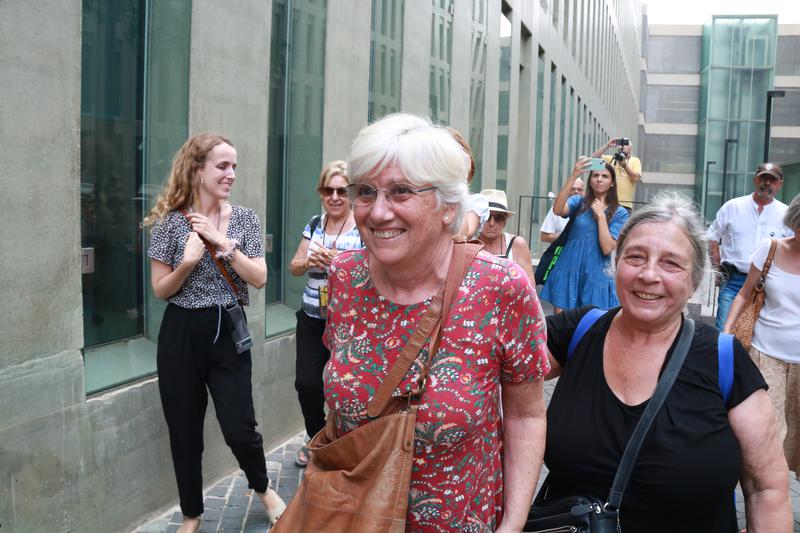 Pro-independence Junts MEP Clara Ponsatí was released after being arrested on her second return to Catalonia. She was arrested in Barcelona at midday on Monday for not appearing in court during her last time in the territory in late March.
Ponsatí took to social media to announce the arrest, which she considered "illegal."
The MEP currently only faces charges for disobedience, which does not carry any prison sentence, as opposed to former Catalan president Carles Puigdemont and former minister Toni Comín, who are also facing misuse of public funds.
Ponsatí was arrested by Catalan Mossos d'Esquadra police on Barcelona's Compte de Borrell street and taken to the Ciutat de la Justícia courts.
Spanish Supreme Court judge Pablo Llarena, who leads all investigations related to the 2017 independence referendum deemed illegal by Spain, said that Ponsatí would be released following her interrogation. He also stated that she would not be sent to Madrid and that her arrest warrant would be lifted once she was finished speaking with the judge.
Llarena issued an arrest warrant for her after she failed to appear in court voluntarily in April following her arrest in Barcelona on March 28.
Llarena reminded Ponsatí that if she was to testify voluntarily, the arrest warrant, only in place in Spain, would stop having any effect, as was the case with current foreign action minister Meritxell Serret and far-left CUP leader Anna Gabriel.
After her arrest, Junts' secretary general Jordi Turull tweeted that it is obvious that the "political conflict continues," he wrote before adding that Spain's attacks against the pro-independence parties continue.
Earlier on Monday, MEP Ponsatí had announced through social media that she was back in Barcelona but had no intention of giving in voluntarily: "While we are here, Catalonia will continue to stand."
Clara Ponsatí and the other pro-independence MEPs no longer have parliamentary immunity as in early July, the European General Court (EGC) ruled in favor of lifting it.
Who is Clara Ponsatí?
Clara Ponsatí is a Catalan politician, an independent within Junts per Catalunya, one of the main parties in favor of independence, and a member of the European Parliament since the last European elections in 2019.
In the aftermath of the peak of the independence crisis in 2017, Ponsatí, like some other pro-independence politicians, left the country to avoid prosecution. Since 2017, she has been living in exile in Scotland and Belgium.