Pro-independence candidate for Barcelona mayor steps aside
Foreign minister Ernest Maragall likely to replace Alfred Bosch, say Catalan media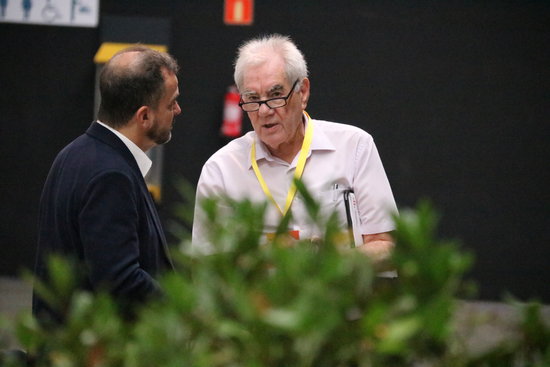 Alfred Bosch has stepped down as the leader of the pro-independence Esquerra Republicana party (ERC) in Barcelona and as candidate for mayor, party sources told the Catalan News Agency (ACN).
He backed Catalonia's foreign affairs minister, Ernest Maragall, as his successor.
The change of leadership comes ahead of the local election in May 2019, and only six months after an internal vote confirmed Bosch as ERC's candidate.
The political battle to replace Ada Colau as mayor of Barcelona is heating up, with most parties changing their candidates in order to improve their chances.
One of the most notable candidacies could be that of Manuel Valls, France's former prime minister, who will announce on Tuesday next week whether or not he will run in the election.
Although Ciutadans party offered Valls to be their candidate, he has repeatedly stressed that he prefers to lead a broader ticket including other unionist parties too.
In the last election, in 2015, ERC came fourth behind Colau's left-wing Barcelona and Comú, their pro-independence allies Convergència (now rebranded as PDeCAT), and the unionist Ciutadans.
Although latest polls showed Bosch and Colau neck-and-neck for first position in the upcoming election, media reports suggest ERC thought Maragall would be a better candidate.
A life in politics
A former MEP and Catalan health minister, the 75-year old Maragall is perhaps best-known as the brother of former Barcelona mayor and former Catalan president, Pasqual Maragall, who is credited with overseeing the city's successful Olympic bid and the subsequent transformation of the Catalan capital.
Ernest Maragall went into local politics in Barcelona in the 1970s and went on to spend 34 years in the city council as a member of the Catalan Socialists (PSC). However, he left the PSC in 2012 over its opposition to Catalan independence.
In the 2017 regional election, Maragall stood for ERC of Catalonia–Catalonia Yes coalition and was elected to the Catalan Parliament. In May 2018, he announced he had joined ERC, and a month later was appointed Minister of Foreign Action, Institutional Relations and Transparency in President Quim Torra's new government.
PDeCAT calls for a unitary list
As ERC is bracing for a leadership change, PDeCAT urged the party to join forces in a pro-independence ticket in order to run together in the upcoming election.
"Pro-independence parties should be united in order to win the capital of the country," said PDeCAT's leader David Bonvehí in an interview with ACN.