President Torra: 'I can only be barred from office by Catalan parliament'
Pro-independence parties outraged at electoral authority's decision to disqualify leader, with Socialists skeptical and right-wing unionists calling on leader to be ousted "immediately"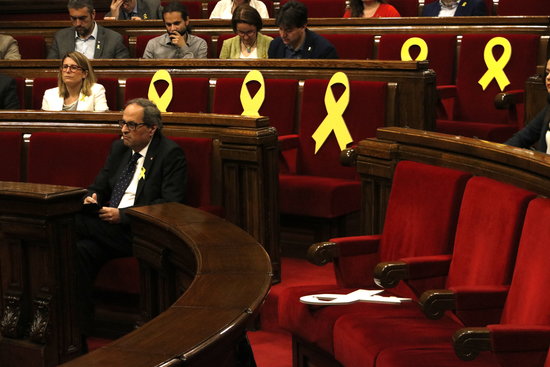 The Catalan president, Quim Torra, said on Friday evening that he will not accept Spain's electoral authority's decision removing him from office.
In a statement given at 9pm after an extraordinary cabinet meeting, Torra made it clear: "I can only be barred from office by the Catalan parliament."
Catalonia's leader also said that he had asked the parliament speaker, Roger Torrent, to call an extraordinary plenary session for Saturday – this session will be held at 5pm.
"Coup d'état"
"I will appeal this completely authoritarian and irregular decision," he added, calling the ruling a "coup d'état."
Torra's decision followed some other reactions of outraged pro-independence top figures.
Former Catalan president Puigdemont called the decision "outrageous, shameful."
"Catalonia's last 2 presidents have been ousted by Spain, not by the Parliament. They have gotten used to deciding who should be president and who shouldn't," he added.
"Aberrant decision"
Quim Torra's second-in-command, Pere Aragonès, senior official of fellow pro-independence ERC party, said: "We are with you, President, all of our support in fighting this aberrant electoral board decision."
"What they've done is disqualifying Spain's democracy," said Laura Borràs, MP in Spain's congress for Torra's party, Junts per Catalunya.
For far-left CUP MP Carles Riera, the pro-independence camp should answer with "mobilization, and civil and political disobedience."
Spain's presidency, at stake
The leader of the only non-aligned party in the independence debate, Catalunya en Comú's Ada Colau, criticized Spain's right-wing unionist parties – the ones taking Torra's disqualification to the electoral board –. "What do Ciutadans, People's Party and Vox want? A formation of a progressive government that dejudicialises politics."
The Socialists, facing a debate in congress from Saturday morning in order to form a cabinet led by Pedro Sánchez, took a skeptical approach on the electoral authority's decision: "We have serious doubts that the electoral authority has the power to take such decision," said party's vice president, Adriana Lastra.
"We hope that Spain's top court, the Supreme Court, responds as soon as possible on the matter."
Earlier this week, pro-independence Esquerra decided to give the go-ahead to Pedro Sánchez's government deciding to abstain in the debate beginning on Saturday.
"Arresting Torra"
Meanwhile, the parties pushing to remove Torra welcomed the decision.
Unionist Ciutadans' leader, Inés Arrimadas, said: "While [Socialist leader] Sánchez pacts with the separatists that breaches laws, Ciutadans uses all of its resources to make sure they are abided by."
People's Party leader Pablo Casado said Torra "must leave his post as Catalan president immediately, and if he doesn't, [Spain's leader] Sánchez must oblige him to do so by complying with his constitutional obligations."
Far-right Vox's leader, Santiago Abascal, called on the Spanish government to "send the police to arrest Torra."
This came after the Spanish flag went missing from Catalan government's headquarters for 15 minutes on Friday evening.
Yet it was pro-independence civil organization ANC the one admitting being in charge of the action.