President Torra calls for an 'alliance of Iberian nations' from Portugal
Torra says Iberian Peninsula loses "geopolitical weight" due to Spain's "repressive answer" to Catalan independence bid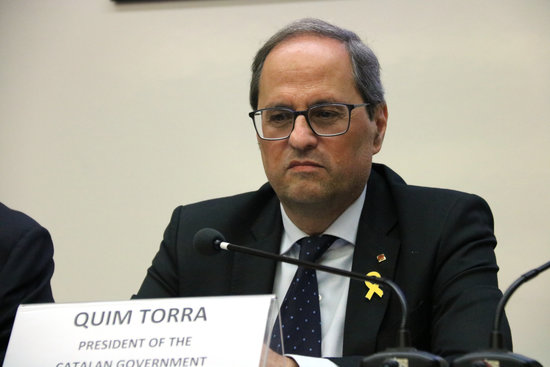 Catalan president Quim Torra has called for an "alliance of Iberian nations" during his trip to Portugal, where he proposed the creation of an Iberian Council to defend the right to self-determination.
In his speech, both in Portuguese and in English, the head of the Catalan executive warned that the Iberian Peninsula is "losing its biggest opportunity to reach its maximum geopolitical weight" due to "the repressive answer of Spain" to the independence bid.
"How big would the influence of Iberian nations be in Europe and the world if their relationship was based on brotherhood and freedom?" said Torra.
The pro-independence leader tried to draw similarities between the history of Catalonia and Portugal, explaining that they are both "old European nations" with "people diverse in their origins, languages, and beliefs."
Torra hopes for greater cooperation
Torra said that he "would like to see" Catalonia and Portugal "further cooperating" in the coming years.
Catalan government efforts to strengthen ties with Portugal include the reopening of its offices in Lisbon, which Torra said will take place "soon."