President takes part in symbolic 'self-incrimination' campaign for referendum
Quim Torra says Spain's leader is "overstepping all limits any democrat can accept" by refusing to get in touch with him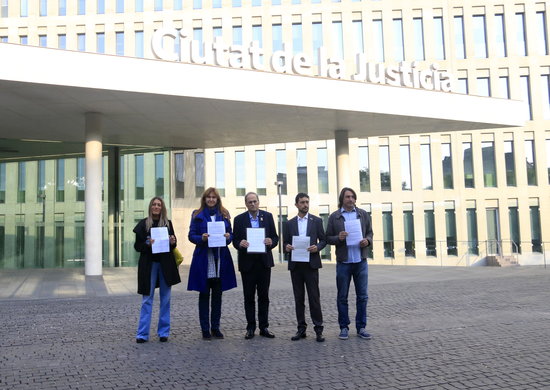 The Catalan president, Quim Torra, has taken part in a symbolic campaign to "self-incriminate" for the events surrounding the 2017 independence referendum. Over two million people voted on October 1, 2017, while Spanish police launched a crackdown to stop the ballot.
The campaign is as part of a response by the Òmnium civil group, whose leader, Jordi Cuixart, was sentenced to nine years in jail for sedition for his role in the autumn 2017 independence bid. Eight more political and civil leaders were also sent to prison for nine to 13 years.
According to Òmnium, by October 28, more than 10,000 people had already downloaded a form they have provided to carry out the protest action. "We want it to be on a mass scale," said Òmnium's second-in-command, Marcel Mauri.
Limiting number of self-incriminations
Meanwhile, facing queues of hundreds in the past few days in several places, the Catalan high court has responded by limiting the number of such self-incriminations to 25 per day and to local courts, in order to avoid bringing judicial activity to a standstill.
While taking part in the protest on Thursday morning, Torra said that "neither the threats nor disdain" would stop Catalans. He added that citizens will go ahead and "exercise the rights denied them, such as that of protest, assembly or disobedience, if necessary."
The president also said that the nine jailed leaders are behind bars for doing "what a lot of Catalans asked them to do, to launch a self-determination referendum."
Talking to the press, Torra also said that Spain's acting leader, Pedro Sánchez, is "overstepping all limits any democrat can accept" by refusing to get in touch with him.