Podemos to bring Spanish government to Constitutional Court for imposing direct rule in Catalonia
Party currently gathering signatures against Madrid's decision to trigger Article 155, says leader Pablo Iglesias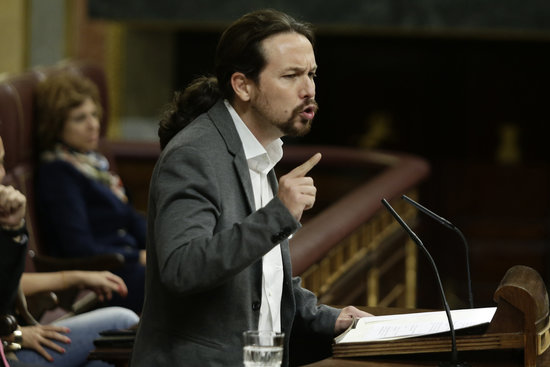 Left-wing Podemos party will bring the Spanish government to the Constitutional Court for imposing direct rule on Catalonia, party leader Pablo Iglesias said on Thursday. Podemos is currently gathering signatures against Madrid's decision to trigger Article 155 of the Constitution on October 27, immediately after the Catalan Parliament voted on a declaration of independence.
The allegation is likely to be backed by pro-independence parties as well. Indeed, they have long criticized the Spanish government's takeover of the executive, but did not have enough seats at the Spanish Parliament to present an allegation. Podemos and its regional partners have 71 MPs, enough to surpass the 50 seats threshold.
Pro-independence leaders say they are currently engaged in talks with Podemos in order to put forward the same text. According to a spokesperson for PDeCAT, Jordi Xuclà, drafts are being exchanged and presenting a sole allegation would be a "common sense" decision.
On October 27, the Spanish Senate authorized the triggering of Article 155. After the Catalan Parliament voted on independence, the Council of Ministers in Madrid decided to dismiss the entire Catalan government, dissolving the legislative chamber and calling new elections to be held on December 21.