Podemos party open to meet Puigdemont in exile
"We will speak with whoever necessary," says left-wing party seeking supports to pass Spain's 2019 budget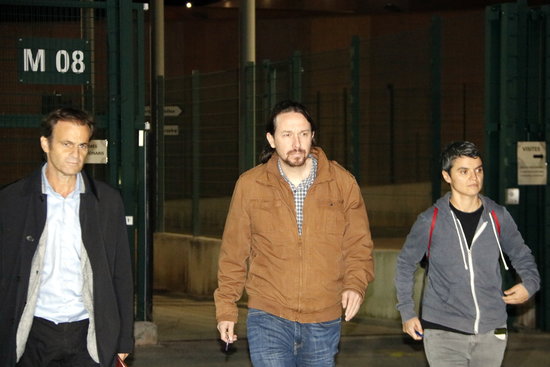 Spain's Podemos party is open to meet Carles Puigdemont, who is in Belgium in exile, in order to make the Spanish 2019 budget succeed in Congress.
At least, that is what suggested Lucía Martín, a Catalan MP in Madrid for En Comú Podem, the Catalan ally of left-wing Spanish-wide Podemos.
In an interview with RAC1 radio station on Saturday and asked if they were ready to meet the former Catalan president, Martín said they "will speak with whoever necessary."
Podemos, from opposition, has agreed on the budget with the ruling Socialists, but pro-independence parties are essential for the bill to be passed in the lower chamber.
That's why the party leader Pablo Iglesias met the jailed Esquerra head, Oriol Junqueras, in Lledoners prison.
Were some Spanish-wide official for Podemos to meet Puigdemont, it would be the first time that a Madrid major politician sits down with the former Catalan president in Belgium.
Yet so far the Catalan pro-independence parties will only negotiate the 2019 budget on one condition: the Spanish government has to make a move towards freeing the nine Catalan leaders in jail.
This was the stance expressed by incarcerated Oriol Junqueras, the Esquerra leader, in a meeting with the head of left-wing Podemos, Pablo Iglesias in Lledoners prison -also attended by Lucía Martín-, and it is also shared by Puigdemont's party.
Iglesias agreed in the need for a move by Spain's Socialist executive, and Martín said on Saturday that the officials in jail are suffering from "an injustice and a violation of human rights."