People's Party MPs respond to 'baseless accusations' of French politicians over jailed leaders
'Le Monde' publishes op-ed by 148 representatives from conservative unionist party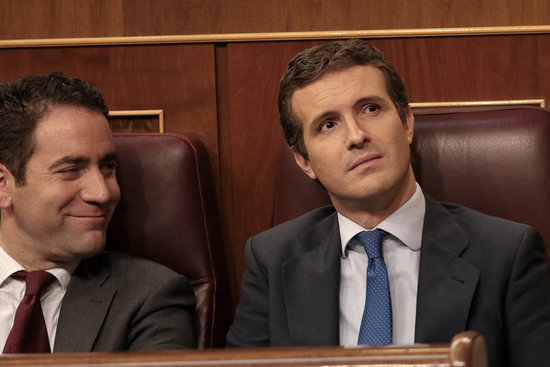 The People's Party has responded to the 52 French MPs who called for an end to the "repression" of Catalan independence leaders.
In an op-ed published in 'Le Monde' newspaper, 148 MPs, senators and MEPs from the People's Party call the comments by French politicians "very serious and baseless accusations."
"The pro-independence leaders have not been tried for their opinions, but because they attacked our fundamental laws, infringing the rights and freedoms of millions of Spaniards, above all those of Catalan citizens," the article reads.
The group of French MPs called denying the leaders their freedom "an attack on fundamental freedoms and the exercise of democracy."
"These elected representatives have been imprisoned and exiled for their political decisions, for wanting to organize a demonstration, and they risk a verdict with harsh prison sentences," they added.
"Spain's democracy is of as high a quality as French"
However, for the People's Party officials, "Spain's democracy is of as high a quality as the French one, according to all international organizations." They also claim that France would have reacted with the same "firmness" as Spain should Corsica have held an "illegal referendum" and declared independence unilaterally.
In this event, they say, the Spanish People's Party "would undoubtedly back France in the defense of its democracy, constitution and unity."
The op-ed in 'Le Monde' published on Catalonia's National Day is signed by the likes of the People's Party leader, Pablo Casado, and the rest of the party's MPs, senators and MEPs.
Meanwhile, the French officials who backed the text criticizing Spain's democracy include the head of far-left La France Insoumise, Jean-Luc Mélenchon, and officials from other minor parties, such as the centre-liberal UDI and the Communists. Former French left-wing ministers Marie-George Buffet and Sylvia Pinel were also signatories.
Spain's People's Party leader blasts Charles Michel
In a parliamentary debate in Spain's congress on Wednesday, Casado also referred to the Catalonia crisis.
Specifically, he criticized the Socialist government for backing Charles Michel as European Council president "for sympathizing with the Catalan independence movement and for his lack of collaboration in extraditing murderers," referring to ETA armed group members living in Belgium.
Charles Michel is the current Belgian prime minister and the president-elect of the European Council.