Pedro Sánchez admits Catalonia main obstacle to left-wing coalition
Acting Spanish president refuses ally Pablo Iglesias a cabinet seat due to his support for "political prisoners" and self-determination referendum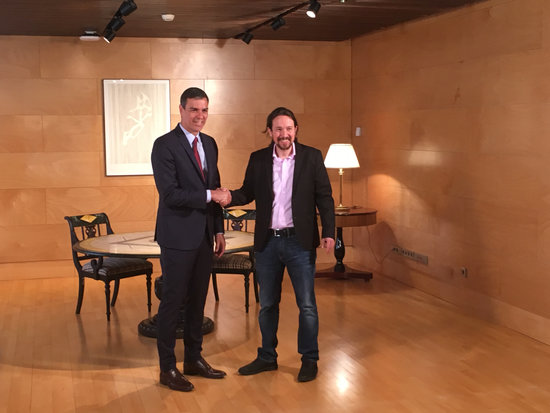 Acting Spanish president, Pedro Sánchez, admitted on Thursday that the main obstacle to his Socialist party agreeing a coalition government with left-wiing allies, Podemos, is the position on Catalonia adopted by the party's leader, Pablo Iglesias.
Talking to La Sexta TV channel, Sánchez said that "the conditions for making Iglesias a cabinet member do not exist," due to his defense of jailed Catalan independence leaders as "political prisoners," and his support for a self-determination referendum in Catalonia.
"A government with Iglesias in it wouldn't work and would be paralyzed by its own contradictions," said Sánchez, who added, however, that he would be in favour of a "coalition government" with members put forward by Podemos, but not the party's leader.
Sánchez suggested Iglesias should take "a step back," and he warned that after the summer in September it would be too late to agree a coalition government, and that Podemos has until this month's parliamentary session to swear him in as president to accept his offer.
Podemos wants cabinet post for its support
The Socialists won the general election on April 28, but without enough of a majority to be able to govern alone. Podemos has supported Sánchez's party since he first became president in June 2018, but is now asking that Iglesias be given a cabinet position.
Since abandoning tentative talks with the Catalan government last year, the Socialists have taken a harder line on Catalonia, ruling out a referendum in the election campaign and refusing to deal with the pro-independence parties in the Spanish parliament.
With a verdict on the Catalan leaders prosecuted for the 2017 independence bid due soon, Sánchez insisted "we need a cohesive government," and added that he cannot have a vice president who "looks the other way" rather than "defend Spanish democracy."
Sánchez urges PP and Cs to abstain
Sánchez also said he would contact the leaders of the conservative PP and Cs parties to ask them not to stand in the way of him forming a working government, and he warned them that "the Spanish people will take note of what has happened in recent months."
PP and Cs campaigned to keep Sánchez out of power, but the acting president urged them to abstain in the upcoming vote, and said even the Catalan and Basque nationalist parties will step aside and allow a government to be formed, even one they do not believe in.