Parliament speaker to ask European Court of Human Rights to enable Puigdemont's bid
Despite being the only nominated candidate, Madrid is challenging the deposed president's efforts to be reinstated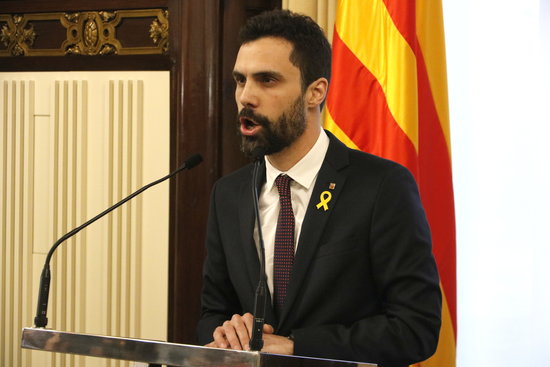 The Catalan Parliament speaker, Roger Torrent, will appeal to the European Court of Human Rights to enable Carles Puigdemont's bid to be sworn in as Catalan president. Torrent nominated Puigdemont as the "only candidate" for the post on January 22. Yet, the Spanish government has challenged the deposed president's bid to be reinstated in Spain's Constitutional Court, which will have a final say on the issue in the near future.
Aiming for a collective initiative
On a personal basis rather than on behalf of the chamber, Torrent is to request the European court in Strasbourg pass provisional measures "aimed at protecting the rights of the Junts per Catalunya candidate, Carles Puigdemont, so he can take part in the investiture debate in an effective way," according to parliamentary sources. Torrent will suggest that all those MPs in the chamber who wish to do so should join his request to make the initiative collective.
This announcement comes on the same day that the Catalan Parliament submitted allegations on the same issue before the Constitutional Court. The judges already have an appeal to decide on from the Spanish government against Puigdemont's nomination as candidate for president. If they accept that appeal for consideration, the deposed Catalan president's bid will not be legal under Spanish law.
Precautionary measures
According to the Catalan chamber, Madrid's appeal contains "pre-emptive and hypothetical" elements. In fact, Rajoy's executive is challenging Puigdemont's candidacy on the grounds that he cannot reach the Catalan Parliament from Brussels due to an arrest warrant against him in Spain. While the judges consider their final decision, the Constitutional Court has placed precautionary measures on the matter, including blocking the Junts per Catalunya leader from being reinstated unless he first asks Spain's Supreme Court for permission to attend Parliament. An investiture at a distance has been provisionally denied.