Outrage as loophole in Spain's new rape law used to reduce sentences
Supreme Court to review legislation known as 'only yes means yes'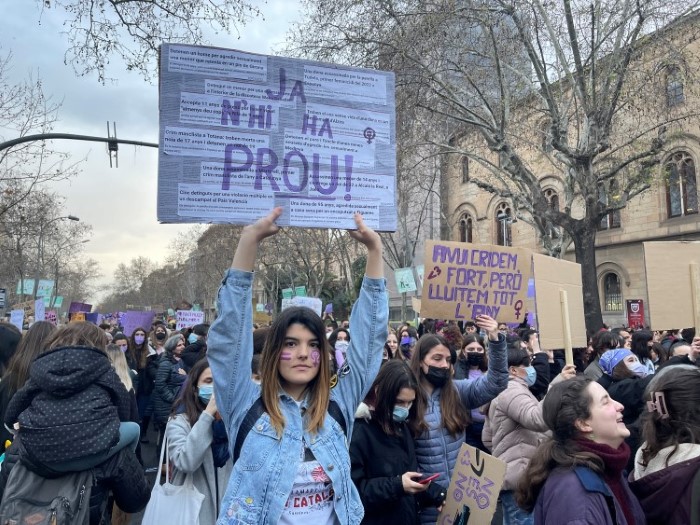 Spain's new rape law, known as 'only yes means yes' for the importance it places on consent, came into effect in early October. Doing away with the distinction between sexual abuse and sexual assault and criminalizing street harassment, it appeared to be a promising step forward in the fight for women's rights.
But now, just over a month later, the new law has caused an uproar as it has become apparent that certain convicts – including one of the members of the notorious Pamplona 'wolf pack' – are using a loophole to try to have their sentences reduced.
There was also an alleged rape in the Costa Brava town of Blanes that was supposed to go to trial in September but was delayed until mid-October after 'only yes means yes' came into effect – the defendant's lawyer requested the postponement arguing it could get his client a more lenient sentence.
This is precisely what lawyers from the Barcelona bar association (ICAB) had warned could happen, with some legal professionals going as far as saying the legislation was poorly drafted.
Calls for Irene Montero to resign
It has also highlighted differing viewpoints within Spain's coalition cabinet: junior member Podemos' Irene Montero, the equality minister who championed the new law, has defended it and accused judges of not enforcing it correctly; the finance minister, the Socialists' María Jesús Montero (no relation), suggested she was open to its revision.
The equality minister's fierce defense of the new law has not, however, prevented the conservative People's Party as well as a number of judges associations from seizing the opportunity to call for her to step down
PM Pedro Sánchez, meanwhile, has defended the law and his government's desire to "protect women" but called on judges to "unify the doctrine" and apply it equally.
The Spanish government is also set to study the cases in which men have had their sentences reduced, as "a law should not provoke the opposite of its desired effect."
Catalan equality minister: 'We can come across biased rulings'
When asked about the matter at an event on Wednesday to unveil Catalonia's new 24-hour psychological support center for victims of sexual violence, Catalan equality minister Tània Verge said judges could issue "biased rulings" without taking into consideration gender-based issues, and that many lacked training in the matter.
But also said that she, like María Jesús Montero, was open to further clarifying the ins and outs of the law to "prevent judges' biased interpretations" of the legislation.
Similarly, Barcelona mayor Ada Colau of Podemos-affiliate Barcelona En Comú, argued that the 'only yes is yes' law's goals were "widely shared" by society, but acknowledged it had indeed sparked widespread debate and refrained from giving her opinion on whether it should be modified.
Supreme Court to review law
Supreme Court sources told the Catalan News Agency (ACN) on Thursday that they would review the legislation and rule on it in the coming weeks.
Although it will take months for the court to consider the appeals stemming from the sentences that have been lowered in the past weeks, it will decide on those that were lodged before then for previous sexual assault cases, and in doing so intends to find a common legal approach to the matter.