Opposition want elections brought forward if president ousted
Parliament speaker called to "set the clock ticking as soon as possible"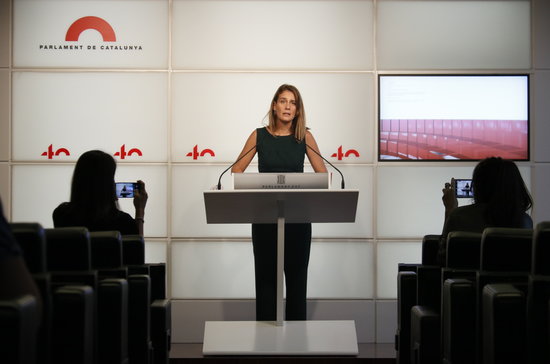 Opposition parties in the Catalan parliament want to see elections called as soon as possible in the event that the Supreme Court rules that president Quim Torra be removed from office.
The leader of the anti-austerity party Catalunya-En Comú Podem, Jéssica Albiach, has called on the Catalan parliament speaker Roger Torrent to "start the clock ticking to have elections as soon as possible" in the event that the president is ousted.
Albiach believes it would be a waste of time for parliament to spend two months attempting to find a majority in favor of electing a replacement for Torra, as would normally be the case. "What we can't do is lose weeks without an effective president to solve the challenges we're facing," she said.
The best way to proceed, according to Albiach, would be that if Torrent finds that there is no candidate who can garner a majority, the countdown to fresh elections should be triggered immediately.
Cuidadanos seek consensus candidate
The largest party in the Catalan parliament, the unionist Ciudadanos, indicated that they intend to speak to their fellow opposition parties to explore how they can avoid blockages in parliament if president Torra is forced to go.
Their leader in the chamber, Carlos Carrizosa, said that it is "a possibility" that a joint candidate could be agreed, "even if it is only to start the clock ticking" towards another election.
Carrizosa called on the speaker Torrent to "comply with the law," and not "use his office to put parliament at the service of separatism."
CUP calls for plan to keep Torra in power
Meanwhile the far-left pro-independence CUP party warned the largest governing party, Junts per Catalunya, that if they want Torra to continue leading the government even if he is disqualified then "this must be organized".
CUP MP Maria Sirvent called for "a strategy, a plan, a joint position, not slogans".