Opposition parties critical of president's first 12 months
Quim Torra accused of ignoring day-to-day concerns in plenary session to assess his first year at the head of the government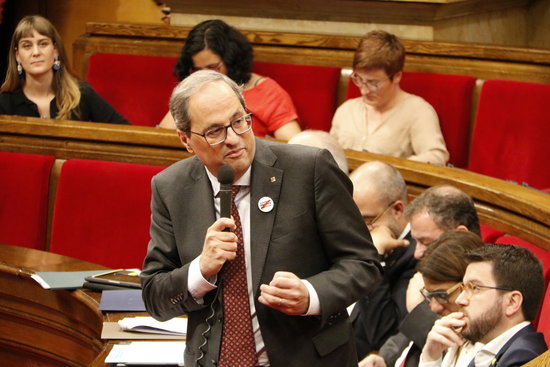 A little over a year after being elected the 131st President of the Government of Catalonia, Quim Torra's performance over the past 12 months has come under the spotlight.
In a plenary session of the parliament on Thursday, the chamber had the opportunity to assess Torra's first year at the head of the Catalan executive.
Accusing Torra of liking only "trouble, propaganda and trips," the Ciutadans (Cs) opposition party said it would petition for a session to debate proposals affecting Catalonia's future.
"If you can't, won't or don't dare to solve the problems of Catalans, make way for those who are committed to this land," Cs spokeswoman, Lorena Roldán, told Torra.
The head of the unionist Catalan People's Party (PPC), Alejandro Fernández, called on Torra to "snap out of his republican dream and deal with the day-to-day issues of Catalans."
Accusing the president of ignoring subjects such as health or infrastructure, Fernández called on Torra to attend to the "real concerns" of Catalans or call an early election.
Nor was the leftwing Catalunya en Comú Podem party (CatECP) complimentary, with its spokeswoman, Jéssica Albiach, saying that Torra "has not been a good president."
Accusing the government of being "lost," Albiach warned that CatECP would not support any budget proposal that did not include the social improvements put forward by her party.
Torra, whose appointment as president brought a period of direct rule to an end, claimed his government had "reactivated" the economy despite the constant "repression" from Madrid.
The president also stressed the "vital" importance of unity among Catalan parties, with the Supreme Court's verdict in the trial of jailed independence leaders due in the fall.
Yet, the Catalan Socialist (PSC) leader, Miquel Iceta, rebuked Torra for saying he would repeat the 2017 independence bid, which he said was "contrary to the country's progress."