Opposition head calls for president to step down and for snap election
Ciutadans party says government only "prioritizes independence" over health, education and dependency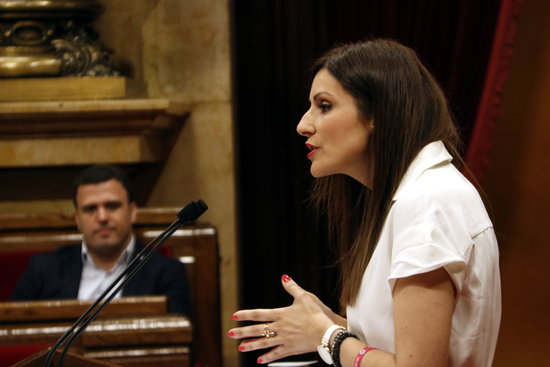 The opposition head has called for the president to step down and for a snap election to be held. Carlos Carrizosa made his remarks on Wednesday in parliament, where a plenary session "on the real Catalonia" requested by his group Ciutadans is taking place.
"You are all burned out, being investigated, disunited, and fighting with one another. You have hit rock bottom – it is the end of the path," said Carrizosa to President Torra.
During the plenary session, Ciutadans spokesperson Lorena Roldán said that the government only "prioritizes independence" over other issues such as health, education and dependency.
For her, the executive is "wasting money" on in its attempts to become a Catalan state, with its foreign offices and visits to jailed politicians and activists.
Roldán, who is poised to be the Ciutadans frontrunner in the next Catalan election, has urged the government to spend more money on reducing hospital wait lists and in assistance for dependent people, as well as on school facilities.
Yet, according to her, Torra's ministers are not interested in anything other than independence.
"But the yellow ribbon will not work to cover your eyes facing reality," she said. "The problem is not with Spain, but with reality, and not that of half of the Catalans, but all of them."
Waiting lists
According to her, 175,000 people are waiting to undergo surgery at public hospitals, with 500,000 more waiting for a visit with a specialist and 156,000 on the wait list for medical tests.
She also said Catalonia's poverty rate is the highest in 15 years and that its tax income is Spain's highest.
Torra: independence as the solution
The president responded to these criticisms by affirming that independence is not incompatible with the correct functioning of the issues Roldán cited.
According to Torra, those issues have been impossible to resolve from within Spain, for which "independence – the republic – is the solution that we have chosen to deal with [these] problems and difficulties."