New Spanish government to take pro-independence initiative to court for first time
Catalan Parliament passed a motion confirming commitment towards Catalan state on Thursday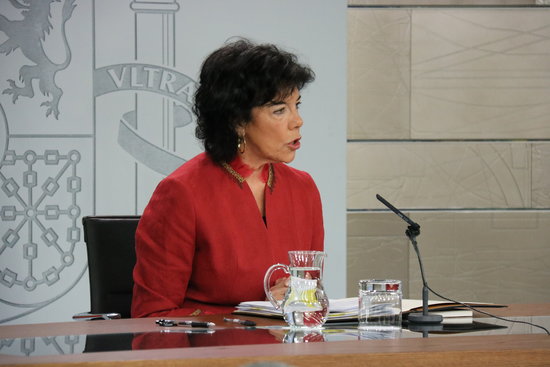 The Spanish government is to take a parliamentary pro-independence initiative to court for the first time since reaching power.
The executive spokeswoman, Isabel Celaá, announced the move on Friday after the weekly cabinet meeting.
This, not even a day after the Catalan Parliament passed a motion confirming its commitment towards a Catalan state.
Just before Madrid announced that it will challenge the motion, the Catalan executive had said that should they take it to courts, the new Spanish government will not be "much different" from the previous one.
The Socialists ousted the People's Party from power last month after a vote of no confidence.
The reasons Celaá mentioned for challenging the motion include "defending the Spanish Constitution and the Catalan Statute of Autonomy."
Yet she believes this will not affect the meeting between Catalonia and Spain's presidents, set for next Monday July 9. For her, the appeal announced to the Constitutional Court has a "juridical path," while "the political one follows another path."
"No agreement over referendum"
The Catalan Socialist leader has also spoken about the upcoming presidents meeting. Miquel Iceta said that on Monday "there will be no agreement for a self-determination referendum."
The Catalan president, Quim Torra, announced last week that he would lay such vote on the table, but Sánchez has already rejected it.
According to Iceta, if Torra focuses the meeting on self-determination, it will be difficult that an agreement is reached during the presidents' meeting.
Yet he said it's "good news" that the Catalan president has suggested holding another meeting in September with Pedro Sánchez, but this time in Barcelona.