Need to keep jobs grounds for continuation of arms sales to Saudi Arabia, argues Spanish president
Pro-independence parties and left-wing Podemos criticize links between Spanish royal family and Gulf country monarchy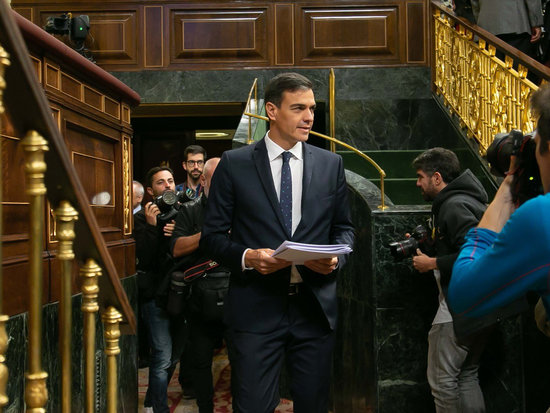 The death of journalist Jamal Khashoggi in the Saudi Arabian consulate in Istanbul became a topic of discussion on Wednesday in the Spanish parliament, when the parties in favor or against an agreed referendum in Catalonia took opposing sides in the debate on whether Spain should honor military contracts with the Middle Eastern kingdom.
The ruling Socialists, the People's Party and Ciutadans, all of whom are against negotiating a referendum in Catalonia, oppose halting the weapons sales to Saudi Arabia, while the Catalan pro-independence parties and left-wing Podemos, which are in favor of such a vote, urged the Spanish cabinet to stop exporting arms to the Arabian kingdom, as Germany has done.
Spanish president Pedro Sánchez said he shared the "rejection, consternation and repulsion" over the murder of the journalist, but he insisted on his government's "responsibility" to protect jobs in the state-owned company, Navantia, which is commissioned to build warships for Saudi Arabia as part of contracts signed in 2015, under the previous executive.
Yet, the left-wing Podemos party insisted that Sánchez halt the business dealings with the "bloody dictatorship," as its spokesman referred to Saudi Arabia, while the Esquerra pro-independence party spokesman criticized Sánchez's decision as "ideological and dictated by the arms industry," and cited the Spanish royal family as a "decisive factor" in getting the contracts.

King of Spain involved in deal with Saudi Arabians
In April, the King of Spain and the heir to the Saudi throne met in Madrid, which led to a deal in which the Persian Gulf country agreed to buy five warships from Spain for two billion euros, and providing work for six thousand people.
The head of Cs said his party supported fulfilling the contracts but advised reviewing such transactions in the future: "Current contracts must be respected but also human rights," he said.
The PP leader also argued for honoring the sales, but he also took the opportunity to attack Sánchez over his stance towards what he called a "coup d'etat" in Catalonia.
"Coup d'etat" in Catalonia


In fact, Pablo Casado went so far as to accuse the Spanish president of being "responsible for the coup d'etat that is being perpetrated in Spain," in reference to the push for independence.
The Spanish president, Pedro Sánchez, asked him for a rectification and, when Casado refused to apologize, Sánchez said he had "nothing else to say" to the People's Party leader.
Sources of the Spanish government said later in the evening that relationship with Casado's party was broken, and on Thursday Sánchez's number 2 in the cabinet, Carmen Calvo, called the People's Party head to apologize again.
"What would the right not do? If Mr. Casado could, he would shoot us. He would shoot us, yes," responded Esquerra's MP Joan Tardà in the chamber.