National Day begins with traditional flower tributes
Torra's government and the Parliament bureau lay flowers at the Rafael Casanova monument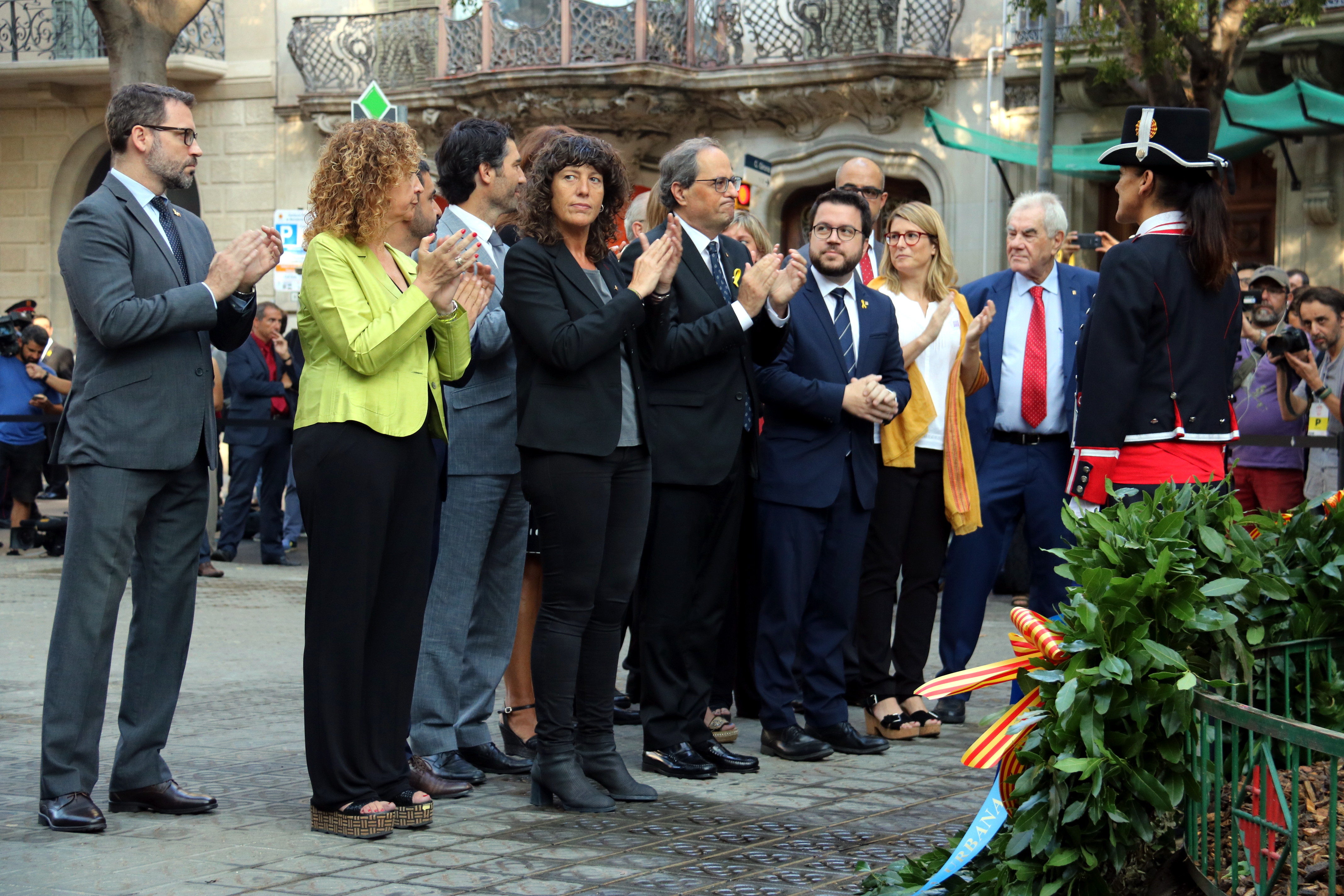 Catalonia's National Day began this morning with the traditional floral tributes at the Rafael Casanova monument in Barcelona.
The Catalan government, headed by President Quim Torra, was among the first to pay tribute. Parliament speaker
Roger Torrent and the chamber Bureau followed shortly afterwards. Barcelona mayor Ada Colau also participated in the homage.
Rafael Casanova was Barcelona's last commander in chief during the War of the Spanish Succession.
Casanova was injured on September 11, 1714 in the exact spot where institutions, political parties and civil society organizations pay tribute to him every year.
After the war, Catalonia lost its sovereignty and Casanova became an icon in the demand for freedom and self-rule.
Most of Catalonia's political parties laid floral tributes, although as usual some groups were absent. While the pro-independence Esquerra party and the unionist Catalan Socialists were present, the main opposition Ciutadans party and fellow unionists, the People's Party, stayed away. Also absent was the pro-independence far-left CUP party.
On the other end of the political spectrum, representatives of the far-right Plataforma per Catalunya, which is opposed to independence, paid their respects while holding a Spanish flag, after which they left, shouting, "long live Hispanic Catalonia."
Apart from the politicians, also at the tribute were the country's main civic organizations. For example, the Catalan National Assembly (ANC), which has organized today's demonstration, sent a representative.
In fact, there was a moment of slight controversy, when a representative of the ANC's youth wing, the ANJI, threw the flower laid by the Socialist party on the ground, although a police officer quickly picked it up and replaced it.
Meanwhile, other groups attending the tribute were some of Catalonia's most important social and cultural organizations, such as representatives of the trade unions and others representing several sports clubs, including FCBarcelona.