Lleida's mayor loses no-confidence vote linked to budget approval
Opposition parties have one month to find a candidate before the spending plan is greenlighted automatically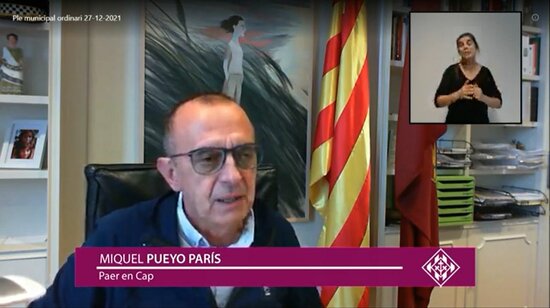 The western Catalan city of Lleida is currently without a mayor. Miquel Pueyo, of the pro-independence party ERC, did not survive a no-confidence vote on December 27 and now the opposition has one month to find an alternative candidate to replace him.
Pueyo linked his leadership to the approval of the 2022 municipality budget, which was rejected on December 10. However, if the opposition do not agree on another leader, Spanish law rules that the 2022 budget will be automatically greenlighted and the current mayor will remain in his position.
On Monday's vote, only 12 members of the city council voted for Pueyo, his party Esquerra Republicana and fellow pro-independence coalition partner Junts, while 13 voted against and two abstained.
The budget planned for a 17.2% increase in spending compared to 2021, totaling €196m. The mayor justifies the amount because the city has to surpass the current crisis as it's living its' "worst moment," since Spain's Civil War.
The mayor explained that not having an approved budget could mean losing the EU Next Generation funds and requested the different political forces to reach a budget agreement as happened with the 2022 Catalan budget.
Opposition against fruit harvesters' accommodation project
One of the main topics the opposition is against is building a hostel for fruit harvesters in the city. One of the city council members, Ángeles Ribes, regretted the fights between neighbors regarding the project.
The Socialist leader in the city, Fèlix Larrosa, said that the government rejected their alternative budget proposal and that the uncertainty the city finds itself in is due to the accommodation project.
Racism accusations
In the early months of the summer, some 200 seasonal workers travel to Lleida where they spend days picking fruit in fields, but then often have to spend their nights on the streets.
Western Catalonia is economically strong, especially in agriculture, and in June 2020, despite AS Monaco footballer Keita Balde's offering to pay for their accommodation in advance, many landlords and hotels refused to house fruit harvesters.
"We're talking about houses, hotels, and hostels that would prefer to stay closed than accommodate black people. This is the biggest insult that can be given to a person," said activist Nogay Ndiaye talking to the press on June 1, 2020.
The federation of hotel owners in Lleida, at the time, denied racism and argued that due to the health crisis, most establishments were closed.