Legal back and forth over possible suspension of jailed Catalan MPs
The Supreme Court has passed the decision back to the Spanish Parliament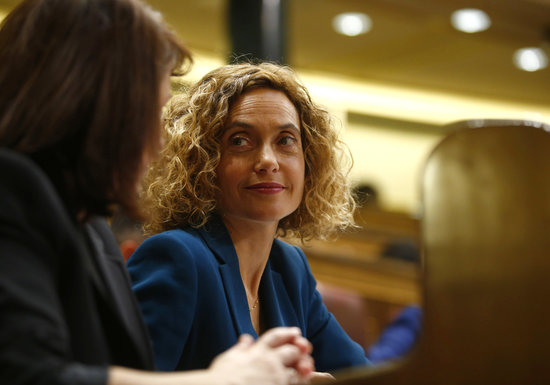 Spain's congress, Supreme Court and parliamentary lawyers are in a legal wrangle over whether to suspend the four imprisoned pro-independence MPs currently standing trial for rebellion.
Esquerra Republicana leader Oriol Junqueras, together with Jordi Sànchez, Josep Rull and Jordi Turull of Junts per Catalunya, were allowed to swear in at the opening session of the Spanish lower chamber on Tuesday, in which Catalan Socialist Meritxell Batet was elected speaker.
Yet a decision must be made on whether the ousted Catalan leaders can continue sitting during the rest of the independence referendum case, with a verdict not expected until the autumn.
Ball in Parliament's court
Batet, a former minister responsible for the regional policy in Pedro Sánchez's Spanish government, had requested that the Supreme Court issue a ruling on their status.
However, its chairman Manuel Marchena, who presides over the Catalan trial, has put the ball back in parliament's court, repeating an earlier ruling that the matter rests with the chamber.
The Supreme Court "can only reiterate" its previous judgment that the speaker's office was responsible, Marchena said on Thursday, adding that a judicial ruling would be "unfeasible."
Lawyers to report on Friday
Batet has responded by commissioning a report from the parliament's legal service into her potential options and will convene a meeting to make a final decision on Friday morning.
Speaking at a press conference on Thursday afternoon, Batet said the purpose of the report was to ensure that the situation was resolved on the basis of legal criteria, not "politicians."
Threat of legal action
Meanwhile, the conservative People's Party (PP) has threatened to take legal action against Batet should her parliamentary bureau choose not to suspend the MPs "immediately."
"The separatists must be suspended today. We are prepared to take Batet to court," PP general secretary Teodoro García Egea said, calling the MPs' election a "shameful spectacle."
Batet's counterpart in Spain's Senate, Catalan academic Manuel Cruz, must also decide whether to suspend ex-Catalan foreign minister Raül Romeva, who has been elected a senator.