Left-wing party appoints new spokeswoman after internal rift
Catalunya en Comú-Podem chooses Susanna Segovia as Elisenda Alamany's substitute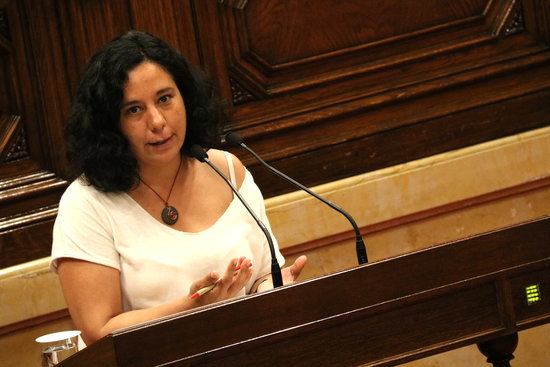 Catalunya en Comú-Podem (CatECP), the only non-aligned coalition regarding Catalan independence, appointed Susanna Segovia as its new parliamentary spokesperson on Tuesday, after Elisenda Alamany stepped down following an internal rift.
Last week, after becoming increasingly disillusioned with CatECP, Alamany founded a critical group within the party and called on the leadership to defend Catalan "sovereignty" and to change certain internal dynamics.
Neither for nor against independence, CatECP demands a referendum to decide on the issue in agreement with Spain.
As the far-left CUP party recently withdrew support from the pro-independence government, CatECP's 8 MPs could be instrumental in securing a majority of seats in the parliament if the executive is to continue ruling Catalonia.
Alamany was very critical of CatECP's leadership, which includes the party's most prominent politician, Barcelona mayor Ada Colau.
The left-wing coalition also includes the Catalan branch of Podemos, the anti-austerity party born following the financial crisis that is led by Pablo Iglesias.
"When we said that we wanted to build a new political force it is because we believed that it would also work at trying to avoid old dynamics," Alamany said, adding: "Yet today I regret to say that we are far from what we wanted to overcome, and those dynamics are being replicated, and our political stances are too reminiscent of those by the parliamentary groups that preceded us."