Left-wing CUP spied on by Spanish police, party says
Officers keep watch of "who enters and leaves" its headquarters, "taking notes and photographs"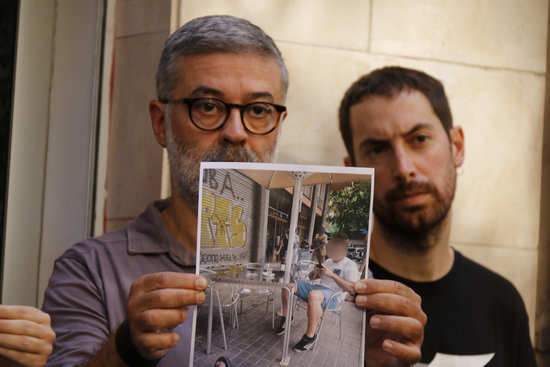 The left-wing and pro-independence Popular Unity Candidacy (CUP) is being spied on by Spanish police, the party has reported.
In a statement made on Thursday, spokeswoman Mireia Boya said agents "take notes and photographs" in order to keep watch of "who enters and leaves" its headquarters in Barcelona. According to the CUP member, this has been going on over the last year.
"This is an abuse of authority that does not even respect its own democratic rules," Boya told press outside the CUP's main centre of operations.
They have taken the matter to the Interior Ministry in order to clarify "who these people are," but thus far have not received any response.
A "transgression" from normality
The CUP held an event outside its headquarters to raise awareness of what it called "completely unacceptable" matters and a "transgression" from normality regarding the Spanish police operation. Agents "tried to access" the headquarters without a warrant, they said.
Boya also lamented that Spain launched a "massive cause against the Catalan independence movement." She accused it of using "all its power" in a planned manner "against dissidence".
Filed complaint
The complaint regarding the "espionage" against the party has been archived, CUP's Núria Gilbert said. They are currently looking into new legal measures to take.
One year on from 20-S
The accusation has been made exactly one year on from when Spain's security forces raided government buildings in an attempt to prevent the October 1 referendum, the CUP's event was held coinciding with that seminal date.
Closing her speech, former MP Boya expressed her appreciation for neighbours who, on September 20, "hid referendum material to prevent Spanish police from taking it away."
She also sent a message of support to Anna Gabriel, the CUP member and former MP, who is currently in Switzerland, having left the country believing she would not get a fair trial from the Spanish judiciary for her role in the independence push.
Gabriel was a highly influential figure in the pro-independence movement, but held no government responsibilities. While former ministers and other officials will face trial for rebellion, Gabriel was charged with the lesser offence of disobedience. In June, Switzerland granted her a five-year residency permit.