Leading independence figures meet in Puigdemont's Waterloo residence
Politicians and activists from across the pro-independence spectrum were in Belgium on Friday for Council of the Republic session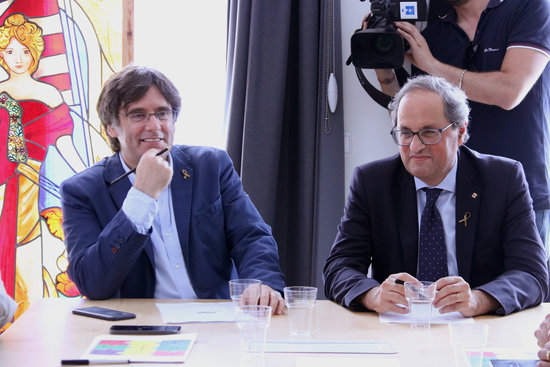 Leading figures in the independence camp were in Belgium on Friday for a meeting of the Council for the Republic, at the Waterloo residence of former president Carles Puigdemont.
The meeting taking place a day after the failure of Pedro Sánchez's bid to return as Spanish president began at 10 in the morning, with president Quim Torra joining in the afternoon.
Figures from across the pro-independence spectrum attended the meeting, including Aurora Madaula and Antoni Morral from Puigdemont's Junts per Catalunya party (JxCat).
Also attending were Isaac Peraire and Rut Ribas from the Esquerra party (ERC), Marta Sibina from the Som Alternativa party, and Guillem Fuster from Poble Lliure.
Elisenda Paluzie, the president of the influential Catalan National Assembly (ANC) was also present, along with veteran Catalan singer and political activist, Lluís Llach.
Llach, who heads a government project to raise public debate on a Catalan constitution, said the Council is the "only unifying platform" for the independence movement.
The singer also called on the political classes to come up with a "strategy" that the pro-independence movement can "identify" with.
The Council of the Republic is a private organization set up last year by Puigdemont to promote the Catalan independence movement following the failed bid in 2017.