Laura Borràs set to become next Catalan parliament speaker
Pro-independence parties JxCat and ERC reach deal to appoint Borràs on Friday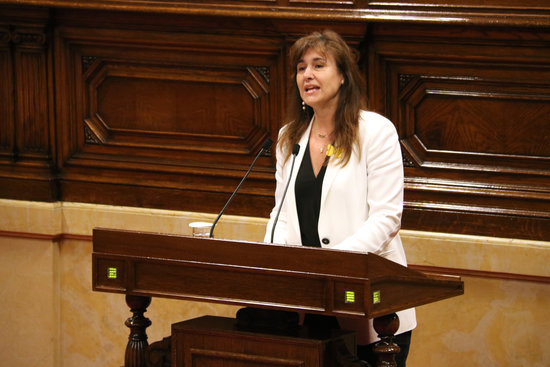 Laura Borràs, initially the presidential candidate of Junts per Catalunya, has been put forward by the party to be the next speaker of the Catalan parliament.
All indications are that the former minister will thus hold the second-highest institutional position in Catalan politics following an agreement between JxCat and ERC, meaning she will not be a part of the next government.
The next administration is still yet to be formed, but it is likely to be led by ERC's Pere Aragonès following a combined victory of pro-independence parties in the last election.
Together, pro-independence parties Junts per Catalunya, Esquerra Republicana, and CUP garnered 74 seats in the chamber - surpassing the 68 needed for a majority.
Borràs has the support of ERC in the vote for parliament bureau positions on Friday, but it is not clear whether CUP will also vote in favour or abstain.
The anti-capitalists have criticized that the presidency of the chamber will go to someone who has a judicial case open against them in the Supreme Court, for the allegedly awarding irregular contracts when Borràs headed the Institute of Catalan Letters.
Regardless of CUP's decision, ERC and JxCat will have enough votes together to confirm Borràs in the position. She looks set to become the third woman to hold the post following Núria de Gispert and Carme Forcadell.
Reports say that Borràs was unsure whether to vie for the position of parliament speaker or the vice presidency of the Catalan government, but top party executives preferred the former culture minister in the bureau post.
The parliament bureau will also have a pro-independence majority and a representative from CUP for the first time