JxCat asks for MPs in Brussels to be able to vote by proxy
If allowed, they would be able to vote in the investiture debate, as well as throughout the parliamentary term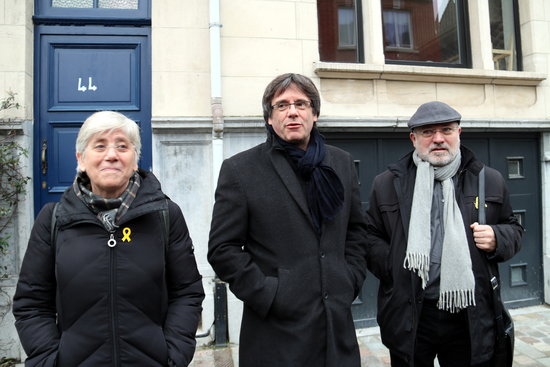 Together for Catalonia (JxCat) has asked for their MPs in Brussels, including president Carles Puigdemont, to be able to vote by proxy in the investiture debate, as well as throughout the parliamentary term. Thus, the elected MPs for Together for Catalonia could vote in Parliament despite not being physically present in the Catalan chamber.
The Parliament's bureau must now study the petition and make a decision on it. Carles Puigdemont, Clara Ponsatí and Lluís Puig have been in Belgium since the Spanish government enforced Article 155 and subsequently suspended Catalan self-government.
Torrent does not close door on Puigdemont taking office
"We will see how to tackle the investiture," said the Parliament's new president, Roger Torrent, regarding the possibility of Carles Puigdemont, as the most voted pro-independence candidate, being elected and sworn in as Catalan president once again. Despite it not being clear whether Puigdemont will be allowed to be reinstated as Catalan president at a distance, Torrent did not close the door on Puigdemont taking office and insisted that the decision regarding Puigdemont to be sworn in as president must be taken by the Parliament's bureau.
Before setting the date for the investiture debate, the Parliament's new president has to hold a round of talks with the main party leaders. They are already underway, with the leader of Catalonia in Common, Xavier Domènech. After the meeting with Domènech, Torrent will sit down with other party leaders. The Parliament's new president pledged to try to carry out the meetings today and tomorrow so that a date for the investiture debate can be set quickly.