Junqueras and Sánchez express desire for dialogue in Spanish parliament exchange
Detained rebellion suspect tells head of Spain's government 'we need to talk'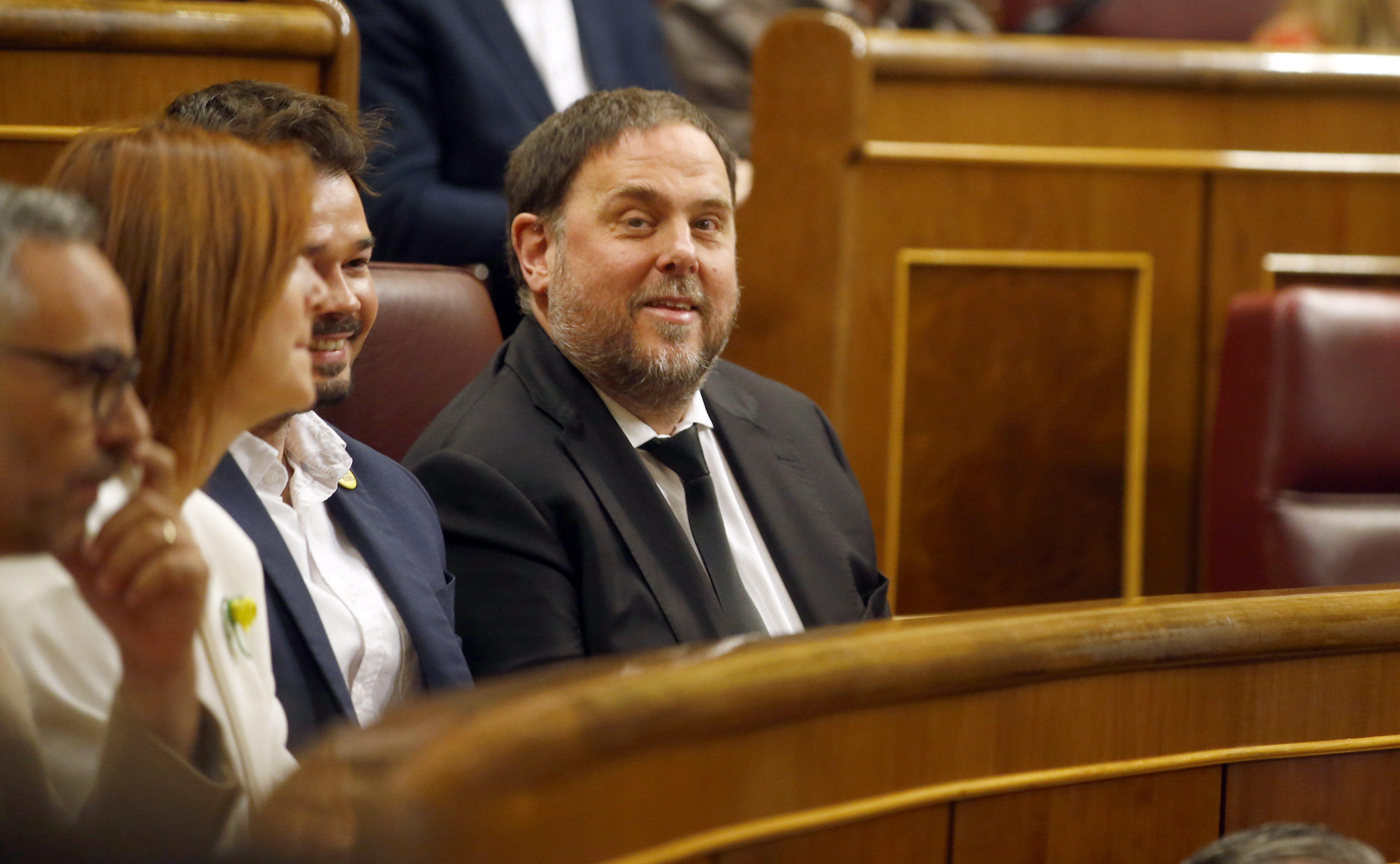 Jailed former Catalan vice-president Oriol Junqueras, on temporary release for the opening of Spain's Congress, took the opportunity to engage with Spanish president Pedro Sánchez.
Junqueras, elected an MP for pro-independence Esquerra Republicana in April – along with four of his fellow defendants in the ongoing Supreme Court trial over alleged rebellion – were granted permission to swear in at the Madrid parliament, although they may subsequently be suspended.
On the sidelines of a preliminary vote for the congress speaker, Junqueras approached Sánchez, congratulated him on his Socialist Party's (PSOE) victory in the Spanish general election, and wished him "all the best" for his anticipated term in power, according to sources in the chamber.
Later in the session, as Junqueras approached Catalan Socialist Meritxell Batet after her election to the chair, he stopped before the president's seat and both agreed on the need to "speak".
Brief encounter
The passing contact was the first of any kind between the politicians since Sánchez took up office last June following a vote of no confidence in the previous government, and Junqueras' first audience with a Spanish president since the failed independence drive in October 2017.
Junqueras also had a brief conversation with former Spanish foreign minister Josep Borrell, one of his 47 Catalan colleagues in Congress, and a number of other outgoing cabinet members.
The four imprisoned MPs, including Junts per Catalunya's Jordi Turull, Josep Rull and Jordi Sánchez, were greeted with a sprinkling of applause and a couple of cries of "out, out" as they entered the chamber ahead of the inaugural session of the newly-elected Spanish parliament.
The imprisoned independence leaders, with former Catalan foreign minister Raül Romeva taking his seat in the Senate, were allowed to move freely but plain-clothed police officers awaited them at the chamber doors in order to accompany them directly back to prison after the sessions.