Jordi Sánchez warns the Spanish president he'll have to face requests for a referendum
The imprisoned activist-turned-politician gave his second press conference live from prison via video link this morning, hosted by the Catalan News Agency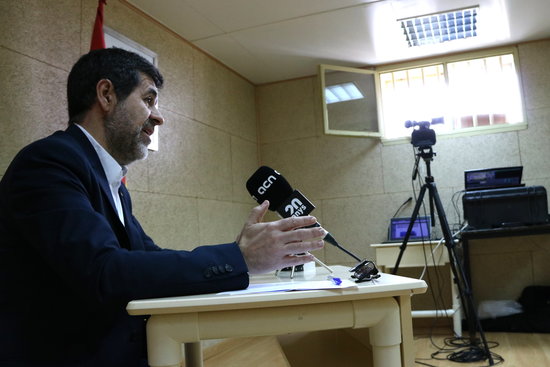 The head of the Junts per Catalunya ticket for Barcelona in the Spanish election, Jordi Sànchez, has warned the leader of the Socialists, Pedro Sánchez, he will "have to face" the independentists' requests of a referendum.
"Our word cannot be bought and does not change," the activist-turned-politician said in the press conference delivered live from prison via video link and hosted by the Catalan News Agency.
Sánchez pitched a defense of his policies, including vowing to continue fighting for a referendum, but also mentioned defending the Catalan language, education system, and Catalan public media.
Sànchez has also warned that no one can think that JxCat will help Vox reach the government. In addition, the former president of the Catalan National Assembly asserted that the debate on the referendum should not revolve around the time axis: "We will not be caught on a specific date, what we have to do is unlock the situation."