Joint unionist ticket 'still not on table' as other elections come first, says PP head
Conservative party leader in Catalonia says electoral alliance with Cs could be "winning alternative to nationalism"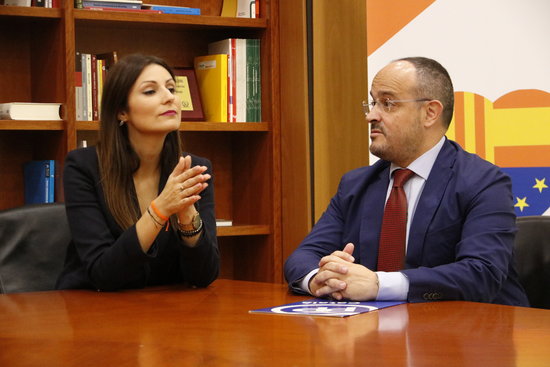 An agreement for two of the main unionist parties to contend the upcoming election is "still not on the table," says the head of the People's Party (PP) in Catalonia, Alejandro Fernández, who argues that the elections in Galicia and the Basque Country on April 5 are currently "the priority."
With president Quim Torra pledging a new election in Catalonia once this year's budget has been passed in parliament, the unionist Cs party has been pressing PP to join forces in the Galician, Basque and Catalan elections to "halt the threat of nationalism," in the words of Cs leader in Catalonia, Lorena Roldán.
In a radio interview on Wednesday, Fernández was critical of Cs for not suggesting such an alliance following its victory after the 2017 Catalan election, which saw it become the largest opposition party in the chamber, although he admitted that Cs' victory "sent a message of hope" to voters against independence.
"In Catalonia, without having to ask for help from Cs' big brother in Madrid, we can build a winning alternative to nationalism," said Fernández, who added that such an alliance would bring together Cs' "spirit to stand up to nationalism, and the PP's responsibility to govern" in a single candidacy.
Out of the 135 seats in the Catalan parliament, Cs has 36, making it the largest party in the chamber, although the JxCat and ERC pro-independence parties together outnumber it with a joint 66, and are the two parties currently in government. As for PP, it won four seats in the 2017 election.
However, Fernández was more coy about who might top a joint Cs/PP ticket in the election, saying that both parties have put forward their main candidates for Catalan president, and that while naming himself "would be presumptuous," to rule himself out of the running would "not be very smart."