"Is voting banned?" asks Puigdemont in tense debate in Geneva
The Catalan leader took part in an academic event dealing with importance of independence in the 21st century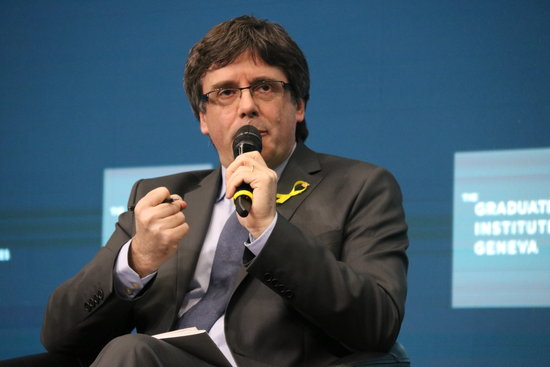 Carles Puigdemont has not had a quiet day in Geneva. The dismissed Catalan leader took part in an academic event on Wednesday, in which he defended Catalonia's right to self-determination. Still, it was a tense debate. He was berated by some attendees, who did not agree with Puigdemont's statements. "Is voting banned?," asked Puigdemont during the discussion. "That's why we want to leave Spain and build a Republic," he added.
Before asking this rhetorical question, Puigdemont stated that defending Spain's unity is as "legitimate and democratic" as defending Catalonia's independence. In addition, he pointed out that Catalans should be able to vote on on whether they want to remain part of Spain or not. "Why are there still politicians in prison? Why is the Catalan government in exile?," he asked in his speech.
The deposed Catalan president also criticized the European Union's stance towards the Catalan crisis. He regretted the EU's "silence." "We do not ask European institutions to support our movement, but only to respect our human and fundamental rights," he noted.