Independence at center of televised debate – with no pro-independence parties
Ciutadans and People's Party candidates take on Socialist head for "reaching agreements" with Catalan government, with Podemos' leader urging "dialogue and empathy"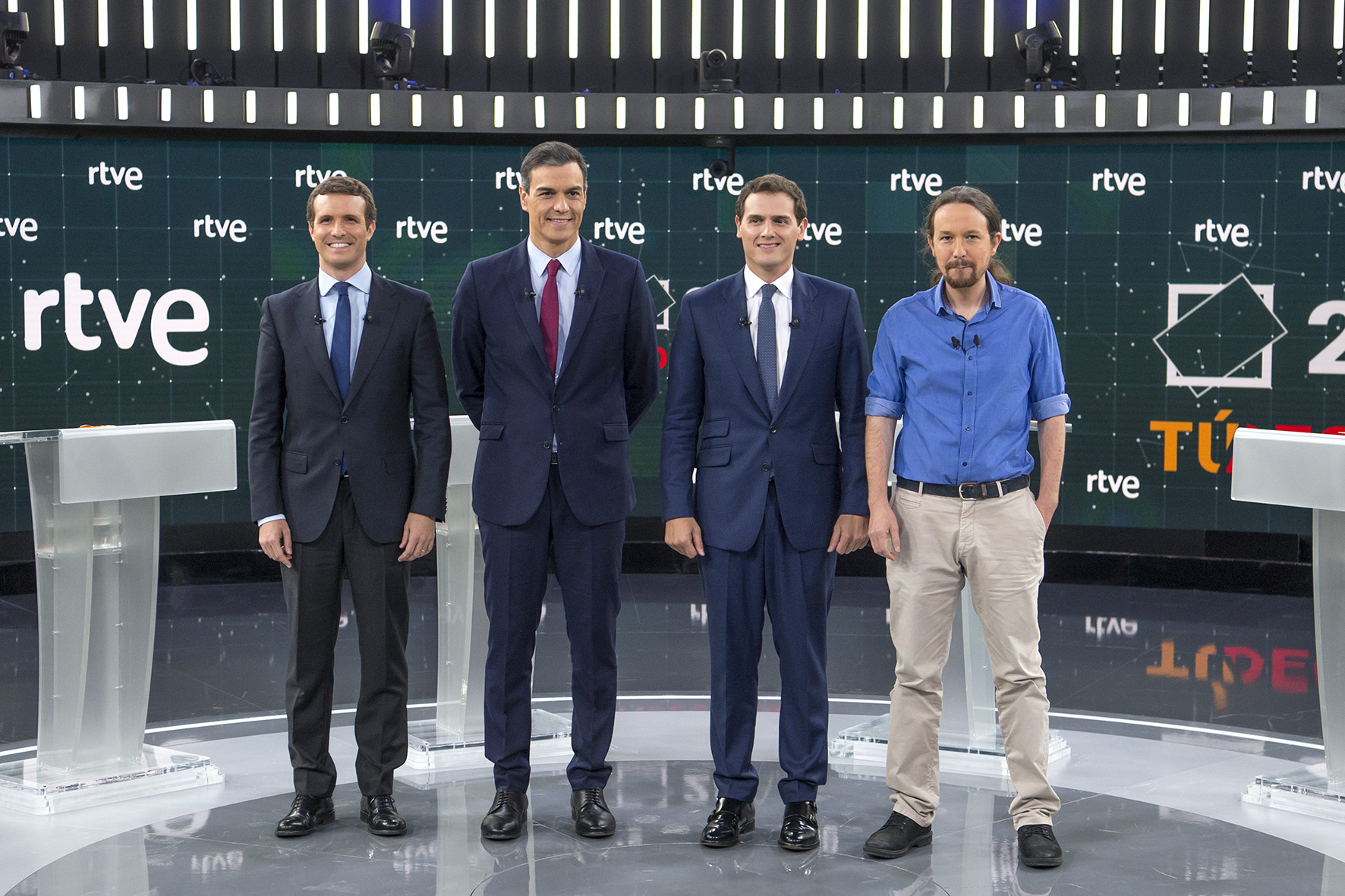 The Catalonia crisis and independence was at the center of the Spanish election first televised debate, on the public TVE on Monday evening.
Yet no pro-independence parties were invited in the event, attended by the Socialist leader and Spanish president, Pedro Sánchez; Podemos' head, Pablo Iglesias; the People's Party top candidate, Pablo Casado; and Ciutadans chief, Albert Rivera.
Casado and Rivera criticized Sánchez several times for "reaching agreements" with the Catalan government and for being backed by pro-independence parties in his successful bid to oust the People's Party from power in May 2018. Both said Sánchez will "pardon" the prosecuted Catalan politicians in exchange of supports for him to stay in power.
PP leader: Catalan president wants "a civil war in Spain"
Casado accused the Socialist leader of agreeing "with those who defend the 'Slovenian way', those who want a civil war in Spain," referring to the Catalan president, Quim Torra, who mentioned the path that Slovenia took to reach independence.
Ciutadans' head: only one nation in Spain
Meanwhile, Rivera called on Socialists "not to kneel before those who want to end with Spain."
"I don't think Spain is a nation of nations. I see a nation of equal citizens," he added during the debate.
Both of them called the pro-independence politicians "members of a coup d'etat." They appeared close to a post-electoral deal to govern in some stages of the programme, but none of them mentioned the possibility that they need far-right Vox party to have a majority in the chamber.
Podemos' top candidate calls for "dialogue and empathy"
On the contrary, Podemos' head, Pablo Iglesias, urged "dialogue, empathy and less insults" to find a way out in the Catalonia crisis.
"When you go to a hospital, you are not being asked who you voted, or whether you are pro-independence," he said, emphasizing the social policies during the whole debate rather than the territorial issue.
Spanish president: no referendum in Catalonia
Pedro Sánchez called "lies" most accusations by Casado and Rivera, and made clear that "there won't be [Catalan] referendum, Spain won't break" if he continues in power. In fact he criticized the People's Party for letting two referendums and a declaration of independence happen during their time in office.
Sánchez and Iglesias were close to each other especially when debating on social and fiscal policies, but the former didn't answer to the latter's question: "Will you form a government with Ciutadans?".