Former Socialist Tarragona mayor to face trial for alleged corruption
Josep Fèlix Ballesteros and eight others are accused of corruption in social services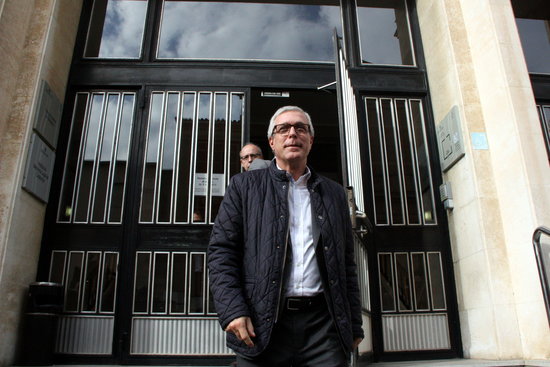 The former mayor of Tarragona, Josep Fèlix Ballesteros, along with eight others, will face trial for alleged corruption in what is known as the 'Inipro case.'
The former Catalan Socialists politician is facing charges of corruption in the municipal institute of social services (known as IMMS in Catalan.)
As confirmed by the Catalan News Agency, the court of Tarragona has rejected the appeals of the main defendants and sees sufficient evidence of crimes to bring the case to trial.
Up to eight crimes alleged
Ballesteros is being investigated for alleged embezzlement, misuse of funds, alteration of prices in tenders and for public contracts, forgery, fraud, bribery, influence peddling, and abuse of public office.
The defendants have no further avenues of appeal, and will have to answer to the public prosecutors as well as the private accusers of the far-left pro-independence CUP party.
Speaking to the Catalan News Agency, the former mayor's lawyer, David Rocamora, defended his client's innocence, and pointed out that the decision of the Tarragona high court is "final" and called for a trial date to be set "as soon as possible."
Rocamora believes the Tarragona court leaves "all the defensive arguments standing" and hopes the honour of the former mayor can be restored with a court date as soon as possible.
The case revolves around the contract signed in 2010 between the social services and the company Inipro, and which was extended outside the procurement regulations during the years 2011 and 2012.
Officially, the aim of the contract was to promote the work of an immigrants' association, but, according to the accusations, activities for the benefit of the Catalan Socialist Party were carried out instead.
Facing trial
In addition to the former mayor, the court will also investigate potential wrongdoing by former Tarragona councilor Begoña Floria; former councilor Victoria Pelegrín; the ex-manager of the IMSS, Antonio Muñoz; the former mayor's chief of staff, Gustavo Cuadrado; Alejandro Caballero, hired by Inipro and linked to the Catalan Socialist Party; José Gallet, administrator of the Gallet company; Enrique Manuel Miró, administrator of Itinerere Educational Services; and Enriqueta Aznar, IMSS technician.
On the other hand, in separate resolutions on April 15, the Tarragona court issued a temporary suspension of proceedings against the municipal official Araceli Saltó; as well as council workers Maria Cecilia Mangini, Vasile Baltaretu, Judit Cepero, Juan Carlos Lozano and Mario Bulzuri.