Former jailed independence leader believes Spain will continue spying after Catalangate
Jordi Cuixart warns UN Human Rights Council that measures do not stop espionage from happening again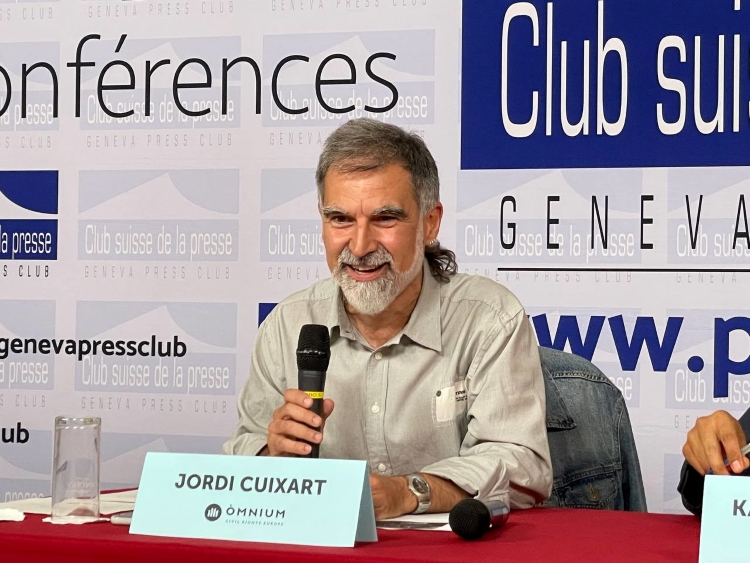 The Catalan pro-independence leader and former president of Òmnium Cultural, Jordi Cuixart, has warned that Spain will continue spying on "dissidents" after the Catalangate espionage case was reported.
During a speech at the 50th United Nations Human Rights Council meeting held in Geneva, Switzerland on Thursday, Cuixart warned that Spain's measures in place after the Catalangate espionage case "do not guarantee this won't happen again."
In fact, he called on the European Union and the international community to investigate the use of Pegasus spyware.
"In a real democracy, a case like this one would have seen an independent investigation opened, an investigation committee, and officials taking responsibilities. Spain has not done it," Cuixart said.
"We are not talking about technology, we are talking about human rights and we are talking about the consolidation and the future of democracy," he added.
But during his speech, the former president of pro-independence civic group Òmnium Cultural urged authorities to find out who is behind the espionage and who have been victims of it.
Cuixart also wants to know where the stolen data is saved as "it is not normal that in a democracy, members of civil society who have been victims are the only ones pushing for an investigation."
What is Catalangate?
Catalangate is the name that Citizen Lab, a University of Toronto-based research group that reports on high-tech human rights abuses gave its investigation into the espionage of several Catalan pro-independence politicians, activists, and their close associates.
It is "the largest forensically documented cluster of such attacks and infections on record," the New Yorker published on April 18.
Phones were infected using spyware programs Pegasus and Candiru. Pegasus, from Israeli company NSO Group, is known internationally for its previous infections of renowned people, such as murdered Saudi Arabian journalist Jamal Khashoggi, or members of Rwanda's opposition party.
Targets include all of the Catalan presidents who have been in office since 2010. Artur Mas (in power from 2010 to 2015) was hacked after leaving office, while Quim Torra (2018 - 2020) had his phone infected while still serving as president. The phone of Pere Aragonès, the leader since 2021, was infected while he was serving as vice president under Torra.
Carles Puigdemont (2016 - 2017) was not attacked directly but was a relational target as up to 11 of his close associates, including his spouse and his lawyer, Gonzalo Boye, had their phones hacked.
Listen to our Filling the Sink podcast episode on Catalangate to learn more about it and hear what victims had to say.
Jailed activist
Of the 9 people put behind bars for the 2017 vote, it is the imprisonment of Cuixart – an activist and not a politician – that was seen as one of the most troubling by sympathizers and certain observers.
On September 20, 2017, Cuixart and Jordi Sànchez – who at the time presided over the Catalan National Assembly group and is now a member of the Junts per Catalunya Party – famously stood atop a vandalized Spanish police vehicle to tell the protesters who had gathered outside the Catalan economy department to go home.
Cuixart and Sànchez were accused of instigating the demonstrators and preventing Spanish police officers from being able to leave the building where they were carrying out a raid.
After being held in pre-trial detention for two years, he was sentenced to 9 years behind bars in a decision that was denounced by the Council of Europe and other rights groups such as Amnesty International or Front Line Defenders for threatening freedom of expression and peaceful assembly.