European MPs launch network condemning Spain's 'repression' of Catalonia
Parliamentarians from various countries come together to call for dialogue and a binding referendum on self-determination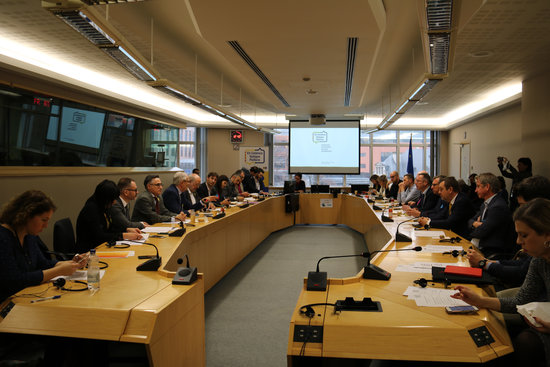 A group of members of the European Parliament along with lawmakers from different member-states have launched a network condemning "the repressive response of Spain" against Catalonia, and calling on the Spanish government to "make a gesture of responsibility towards pushing for dialogue."
The Parliamentary Network of Friendship Groups of Catalonia is made up of MPs from the UK, Denmark, Estonia and Flanders, as well as MEPs from the European Union-Catalonia Dialogue Platform.
In its manifesto, the network expresses its support for "a significant majority of Catalan citizens and institutions" in the face of Spain's "repressive" response to the political situation, and calls for an agreed and binding referendum on Catalonia's self-determination.
Among the network's main aims is calling for the release of political leaders held in custody and for exiled officials to be allowed to return home, while also demanding respect for "Human and Fundamental rights in Spain and Catalonia."
Insisting that the Catalan conflict is political in nature, the network emphasizes the importance of the separation of powers, at a time when the independence of the Spanish judiciary has been called into question.
It also urges European institutions to mediate in the conflict, which it argues has "a clear EU dimension," while the parliamentarians commit themselves to "informing our respective public opinion to reinforce awareness of the Catalan cause."
Network is "important" and "necessary"
In a press conference in the European Parliament on Tuesday, MP Hywel Williams (UK) called the manifesto "extremely important," while MP Magni Arge (Denmark) said such a network is "necessary" as the trial of the jailed Catalan political leaders approaches.
MP Peter Luykx (Flanders) said "Europe cannot remain silent forever" and demanded "international awareness" of Catalonia's situation, while MP Artur Talvik (Estonia) condemned the situation of the jailed leaders and called for the "fight against the unjust situation to continue."
There are now seven European groups in support of Catalonia, three of which -from Switzerland, Finland and Ireland- were unable to attend Tuesday's meeting in Brussels. However, they are expected to sign up to the manifesto and to join the network in the coming days.