EU parliament protesters unfurl banner that saw Catalan president banned from office
Catalan MEPs joined by deputies from Corsica, Ireland and Slovenia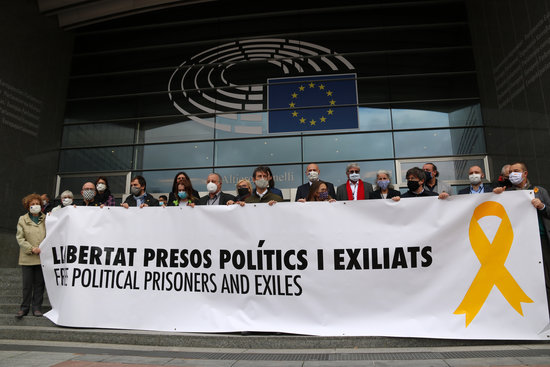 Fifteen MEPs gathered in front of the European Parliament to unfurl a banner in support of the jailed Catalan pro-independence leaders, the same one that saw the ousted Catalan president Quim Torra removed from office for displaying.
At the rally in support of Torra and the prisoners were Junts per Catalunya and Esquerra (ERC) MEPs, as well as other members of the chamber such as Corsican MEP François Alfonsi, Irishwoman Clare Daly and Slovenian Milan Brglez.
"Spain is the only EU country where political opponents are sentenced to 13 years in prison," Alfonsi said.
JxCat MEP Clara Ponsatí said that by disqualifying Torra the Spanish authorities show they "do not respect the votes of Catalans."
"We call on the European institutions to stop covering their eyes to what everyone can see," she added.
Irish MEP Clare Daly of Independents 4 Change, part of the European United Left–Nordic Green Left, said the ruling was "a terrible indictment of Spain at a time when the European parliament is talking about rule of law and democracy being the core values of the European Union."