EU parliament head calls for 'urgent action' for 121 migrants on Open Arms ship
Sassoli pressures European Commission president to aid the Catalan vessel that has spent eight days at sea looking for safe harbor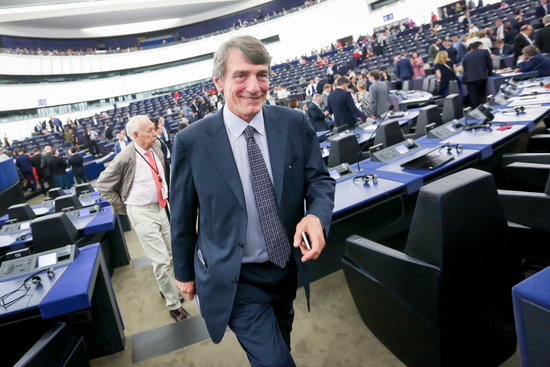 The President of the European Parliament, David-Maria Sassoli, has sent a letter to European Commission president, Jean Claude Juncker, asking for "urgent action" to help 121 migrants on board the rescue ship of Catalan NGO, Proactiva Open Arms.
The Open Arms vessel has spent over seven days in the Mediterranean Sea with the migrants on board while looking for safe harbor. "The situation is serious and deserves prompt action," says Sassoli in his letter.
The EU parliament head also asks for an "equal redistribution of migrants", who were rescued off the Libyan coast, and he regretted that neither Italy, or Malta or Spain are willing to take the migrants, which includes 31 children, two of them nine-month-old twins.
In his letter, Sassoli was also highly critical of the union's member states, warning that if the EU remains "indifferent" to the plight of migrants stranded at sea, "it will mean that it has lost its soul, as well as its heart."
The Catalan NGO, whose ship is now off the Italian island of Lampedusa, thanked Sassoli for his letter and reproached the EU: "Shame on Europe, for not being capable of providing a port for these people in eight days," it posted on Twitter.
The NGO's head, Óscar Camps, this week made an appeal to Spain (along with France and Germany), but the Socialist Party's acting Spanish vice president, Carmen Calvo, said on Wednesday that Spain would not intervene: "We don't have to do it," she said.
Meanwhile, Sassoli's letter comes in the same week that the Italian parliament passed a decree imposing fines of up to a million euros on skippers of ships who rescue people at sea and then take them into Italian waters without permission.