ERC's new independence referendum proposal 'will not take place', Spanish government says
Governing Catalan party wants new self-determination vote needing 55% yes to pass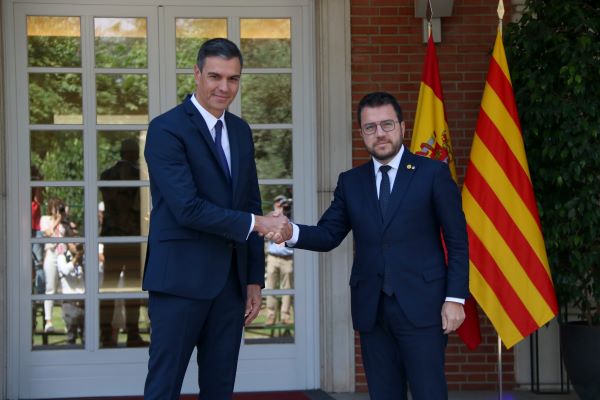 The Spanish government ruled out the possibility of the new independence referendum proposed by the Catalan pro-independence Esquerra Republicana party will ever occur. This vote "is against the Spanish constitution," therefore, "it will not take place," spokesperson Isabel Rodríguez said on Tuesday during a press conference.
The governing Catalan party proposed this self-determination referendum on Monday afternoon and set the parameters by which such a vote would be legitimized.
The proposal is to "negotiate" an agreed referendum with Spain, one that would be legitimate with at least 50% participation and one that would pass with a minimum of 55% of votes in favor of independence.
But just as the executive said, the Socialists spokesperson in the Spanish congress, Patxi López, "radically" ruled out the possibility of an independence referendum.
"This political party, and this government will not accept a Catalan independence referendum," he said before adding that "when someone asks for a vote on self-determination, we will reply with an autonomy statute as a proposal."
Despite the penal code reform, he said, the party will not allow a vote to take place. As opposed to the People's Party, the group governing Spain during the 2017 referendum in Catalonia that did not politically approach the circumstances but only started a judicialization process against several leaders, the Socialists "will not remain quiet."
On a similar note, the Catalan group of the far-right VOX party announced that its members would disagree on "the conditions of division and rupture" of their "beloved homeland," Joan Garriga, the party's spokesperson in the Catalan parliament, said during a press conference.
On the other hand, the Catalan government sees ERC's initiative of using Montenegro's 2006 referendum as inspiration for the new vote fit and say it is similar to what president Pere Aragonès announced during the general policy debate in September. When he proposed a Quebec-style Clarity Act with Spain over the referendum conditions.
Esquerra has put together a document detailing its referendum proposal, which will be debated and put to a vote at the party's national congress on January 28.
The question on the ballot should be a "clear question, like the one on October 1, [2017]," the party says, with voting open to all residents of Catalonia aged 16 and over, and those non-residents who have the right to vote in the elections for the Catalan parliament.
Party leader Oriol Junqueras wants the ongoing dialogue table between the Catalan and Spanish executives to begin addressing the issue of self-determination, thereby beginning a "second phase" of negotiations.