ERC proposes lowering misuse of public funds sentences if no personal or third-party gain
Spain's ruling Socialists to "assess" pro-independence party's proposed amendment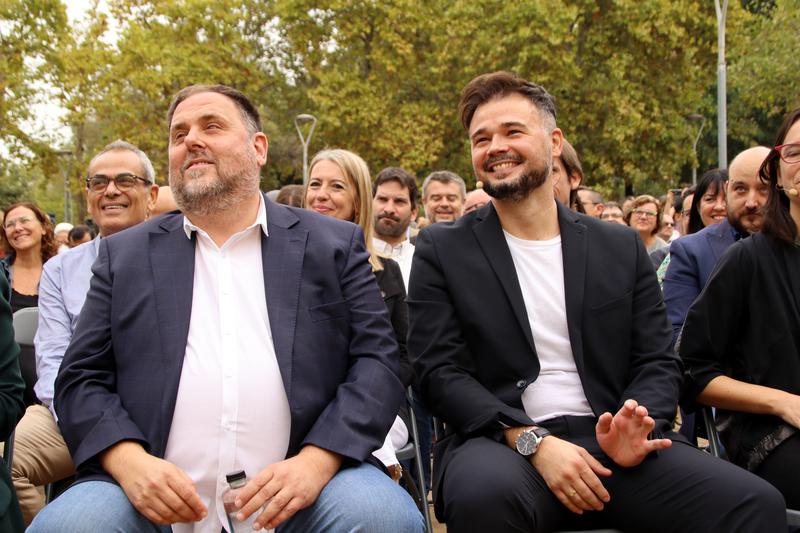 Pro-independence Esquerra Republicana (ERC), the party in the Catalan government, has formally proposed reforming the crime of misuse of public funds by lowering sentences to three years behind bars when there is no personal or third-party enrichment involved.
The party headed by Gabriel Rufián in Spain's Congress argues that this change would be in line with Spanish law prior to the 2015 reform that took place under the conservative People's Party and that now affects the organizers of the 2017 independence referendum.
With this proposed amendment, Esquerra hopes to prevent the crime of misuse of public funds from being used "for political and arbitrary reasons against members of the independence movement."
ERC has also proposed slight amendments to the new crime of aggravated public disorder, which is set to replace sedition in the Spanish criminal code.
While a number of high-profile referendum organizers were convicted of sedition, pro-independence parties in opposition in Catalonia - former government partner Junts and far-left CUP - as well as civil society group Catalan National Assembly (ANC), Òmnium, and other rights groups, have expressed concern that the new crime could be used to prosecute activists.
Esquerra has thus proposed further specifying which incidents could be considered to constitute an aggravated public disorder in order to "dejudicialize social and political life and limit the arbitrariness of the state."
Socialists to "assess" measure
Spain's ruling Socialist party has said it will "assess" ERC's proposed amendment, but that in no case would it decriminalize misuse of public funds.
"Any improper use of public resources must be penalized," Patxi López, the party's spokesperson in Congress, said in a press conference on Friday, adding that these potential changes would not impact the corruption sentences of former Andalusian presidents Manuel Chaves and José Antonio Griñán.
The Socialists have also put forth an amendment that would make it easier to renew the Council of the Judiciary.
Conservatives and far-right to appeal reform
The conservative People's Party and far-right Vox announced that they will appeal the criminal code reform in Spain's Constitutional Court.
Both Alberto Núñez Feijóo of PP and Vox's Santiago Abascal accused Spanish PM Pedro Sánchez of "attacking" Spanish institutions with proposals to remove the crime of sedition, to modify the crime of misuse of public funds, and to aid with the renewal of the members in the Council of the Judiciary.