Electoral authority stops jailed leader from joining televised EU election debate
Board also bars exiled former minister Toni Comín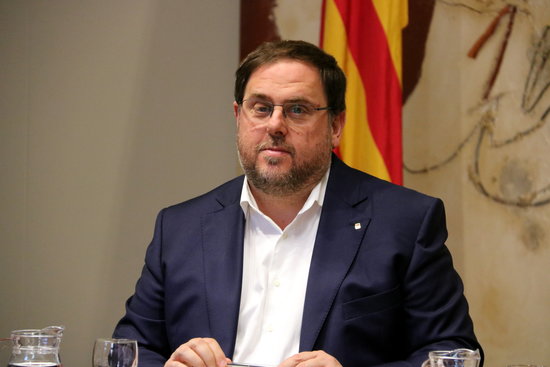 Spain's electoral authority has ruled out jailed Catalan politician, Oriol Junqueras, from taking part in a televised debate on Tuesday night between candidates in the European election.
The program due to begin at 10pm on the Catalan public television channel, TV3, is incompatible with the timetable of the prison where the former vice president is being held, according to the authority.
Former vice president Junqueras, who has been in custody for over a year while being tried in the Supreme Court for his part in the 2017 independence bid, is the Esquerra party's main candidate for a seat in Brussels.
On Monday, the electoral authority for Barcelona gave the green light for Junqueras, and also Toni Comín, a former minister who is in exile in Belgium and is standing for the Junts per Catalunya party in the election, to take part in the TV debate, yet he was also barred in the end on Tuesday evening.
That original ruling was in response to an appeal against Junqueras appearing from the Ciutadans party (Cs), a decision the party's spokesman, Carlos Carrizosa, called "scandalous" and an "infringement of equality" towards the other candidates.
Yet, it was an objection by the prison service, on the grounds that allowing the videoconferencing facilities to be used at that time would be disruptive, that led the electoral authority to overrule the previous decision and bar Junqueras from taking part.
The electoral authority also turned down requests by Junqueras to do interviews with the Catalunya Ràdio radio station and the Ara newspaper on the morning of May 16, because the videoconferencing facilities "have already been reserved" for court business.
Concerning Comín, the electoral authority believes it would not be fair the fact that he takes part in the debate via videolink (and with the potential advantage of using technology or having assistants with him), while the others are in the TV set.