Election will only be delayed if there is 'very limited social activity or total lockdown'
Parties insist on vaccination of election workers and for staggered times to cast ballots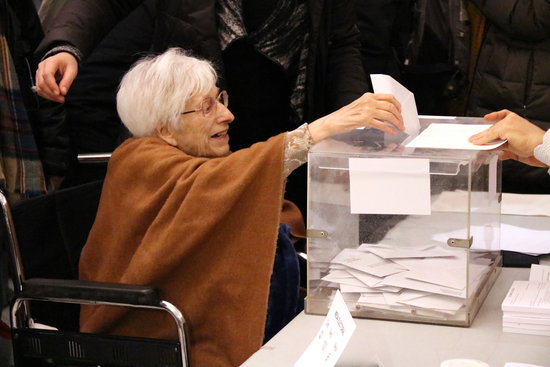 The February 14 Catalan election will only be delayed if "there is a very limited social activity or total lockdown" due to Covid-19 those dates.
This is the result of the consensus reached by the main parties running in a meeting held on Monday.
That is to say that if the vote were to be held this week, it would go ahead given the current restrictions.
The parties also urged the government to vaccinate the election workers randomly picked and also to set some recommended time slots to cast the ballot.
The political forces believe that those at risk of Covid-19 should vote in the early morning – polling stations open at 9am – and those with the virus would have to wait until 7pm to 8pm, in the last hour of the election.
Following the talks held on Monday, it was agreed that January 15 would be the deadline to decide whether to delay the vote or not.
"We've set January 15 as a good date from a health perspective to make a decision on whether we go ahead with the election," said Bernat Solé, Catalonia's foreign minister.
Civil Protection protocol
The protocol published by the Civil Protection authorities in November did not take into account a potential vaccination or the establishment of specific times to vote for those especially at risk of Covid-19.
Yet, authorities did suggest using pavilions or similar venues instead of schools so that voters can have 2.5 square meters each to avoid crowding and keep to social distancing measures.
A one-way system will be in place to avoid unnecessary social contact, while electoral workers will be wearing face shields and will have to have a temperature of under 37.5ºC, and no symptoms of coronavirus.
The Catalan foreign minister, Bernat Solé, said that mail-in ballots will be available to request online.