Elected pro-independence prisoners allowed to attend parliament on day before opening
Monday's trial session now postponed until Wednesday, with Tuesday's first Spanish parliament session taking precedence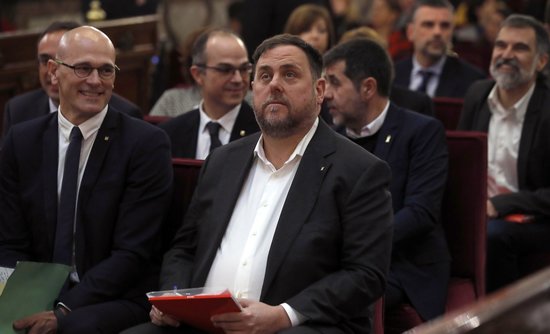 Pro-independence leaders who successfully stood from prison in the Spanish general election will be released on two separate occasions next week in order to formally take up their seats after getting the green light to register on Monday.
The Supreme Court has now granted the five politicians – currently on trial for rebellion following the October 2017 referendum – permission to attend a registration process in Spain's parliament on Monday, as well as the opening debates in either the Congress or Senate the following day.
Oriol Junqueras, Jordi Turull, Josep Rull and Jordi Sànchez will be escorted to the Congress, where they were elected as MPs, while Raül Romeva will be officially sworn in as a senator.
Opening sessions
Earlier this week, Supreme Court magistrates in Madrid had already given their approval for the quintet to take part in the first plenary sessions of the new parliamentary term next Tuesday.
Yet their request for release pending the verdict of the rebellion trial in order to begin work as elected representatives was turned down by the judges in a ruling made public the same day.
The pro-independence politicians will be allowed to move around freely within the chambers, but police officers will be stationed at the doors in case of any prospective escape attempts.
Congress and Senate sources say that the former Catalan government leaders will be taken out of preventative prison and brought into the chamber buildings via the underground carpark.
Five jailed leaders
The leader of left-wing party Esquerra and former Catalan vice-president, Junqueras, became a Spanish MP on April 28 alongside former ministers for Junts per Catalunya, Turull and Rull, and Sànchez, an activist turned politician and recently-departed Catalan parliament member.
Romeva, former foreign minister and also an Esquerra member, won a Senate seat.
Trial postponed
The decision to allow them to register as lawmakers prompted the court to postpone Day 45 of the trial against the pro-independence officials, scheduled for Monday, until Wednesday.