Dozens protest as King Felipe and Pedro Sánchez visit SEAT in Martorell
Catalan government skips event to demonstrate opposition to monarchy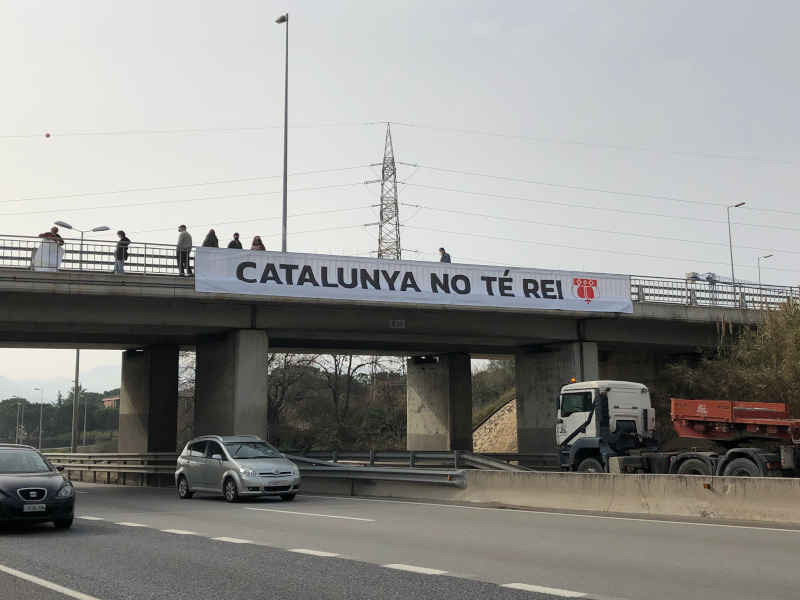 Dozens of people gathered outside the entrances to carmaker SEAT's industrial estate in Martorell on Friday morning to protest against the visit of King Felipe and Spanish president Pedro Sánchez.
A small group of protesters called by CDR activists marched from Martorell's city center towards the industrial estate, meanwhile around 20 more hung four banners from bridges above the AP-7 and A-2 highways nearby.
According to pro-independence civic group ANC, in charge of the demonstration, officers identified a few of the activists involved.
Law enforcement removed people who had been rallying on a bridge above the AP-7 close to Can Cases forest, arguing that there was a risk of them falling off the bridge.
No incidents were reported prior to the visit.
The protests were significantly smaller than previous rallies held to greet the monarch, such as the last one in Barcelona's Estació de França, attracting hundreds and with tension reported.
King Felipe and Pedro Sánchez were due to take part in SEAT's 70th anniversary institutional event on Friday, along with the carmaker's most senior officials.
The Catalan government boycotted the event to demonstrate their opposition to the Spanish crown.
Committed to boost electric vehicles
On Thursday, a public-private partnership including the Catalan carmaker was launched aiming to build a battery factory "near" Martorell.
During the visit on Friday, SEAT's president, Wayne Griffiths, said the firm wants to be at the forefront of the transition towards electric vehicles and also wants to lead the post-Covid-19 "recovery."
For him, Spain "cannot miss the train of electrification." Griffiths said that the company will spend €5 billion to go electric, but admitted that they need help from the administrations.
Indeed, both Pedro Sánchez and King Felipe confirmed their support in the same event with their visit. Sánchez did not take the floor, but the monarch praised the "global, courageous and entrepreneurial" spirit of Catalonia, also reminding that the competition to lead the transition "will be very tough."