Criticism mounts as deadlock among pro-independence parties to launch term continues
Esquerra wants JxCat to support their candidate within two weeks, as no agreement before May 26 would mean fresh election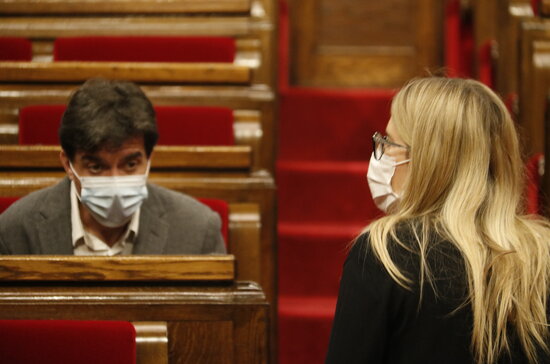 The two current Catalan government partners, Junts per Catalunya (JxCat) and Esquerra, continue to negotiate a shared cabinet for the new term – but they are still unable to find consensus, over two months on from the February 14 election.
They do not seem to be able to find a way out of the deadlock, but any alternative is, at the moment, unthinkable – criticism against the pro-independence parties leading the talks is mounting, especially from the rest of the parties.
If a majority of lawmakers in the Catalan parliament are unable to support a bid for president by May 26, voters will face fresh elections in mid-July.
On Monday, Esquerra urged JxCat, their ally until now, to back their candidate, Pere Aragonès, between April 23 and May 1.
"We have to set a date for the parliamentary session to pick a president," said spokesperson Marta Vilalta.
For Esquerra, there are no disagreements with JxCat, who, according to Vilalta, is only providing "excuses" while resolving their own internal discussions.
Yet, this deadline was rejected: "Putting pressure on Junts per Catalunya will not work," said their party spokesperson Elsa Artadi.
Artadi said there should be "fewer statements to the press and more meetings."
CUP could consider entering government in two years
The far-left pro-independece party CUP could consider entering government in two years, at the half-way point of the term, when Aragonès would face a vote of confidence, according to the agreement negotiated between CUP and Esquerra.
Mireia Vehí, an MP for the party in the Spanish Congress said that if things go well in the next two years and "there is a change," her party could discuss the issue.
Speaking during an interview with Catalan public broadcaster TV3 on Monday morning, Vehí made it very clear, however, that the current "minimum" agreement with ERC is only for the investiture of Pere Aragonès and that right now it is not feasible to be part of the Catalan executive.
Vehí urged JXCat and ERC to form a government "quickly" and warned that the independence movement could not throw the 52% of votes they won in Februrary's election "in the trash."
Catalunya en Comú–Podem regrets "excuses"
For their part, the anti-austerity Catalunya en Comú–Podem (CatECP) again urged Esquerra to form a left-wing executive, similar to the makeup of Barcelona City Council.
Their spokesperson, Joan Mena, said in a press conference on Monday that he regretted what he considers the "excuses" from ERC for not trying to build such an arrangement.
An ERC and CatECP executive with the support of "other forces" - such as the Socialists - would be "an alternative to the failed government" of Esquerra and JxCat, added Mena.
The Socialists have also criticized the negotiations between ERC and JxCat, saying it seems that they "are not in a hurry." Party spokesperson Eva Grandos also expressed concern that there was "no talk of economic reactivation."
"We don't even know what ministries the Catalan government will have, so how can we pass the 2021 budget on time?" Granados asked, while also claiming that there is an "alternative progressive majority in Catalonia."
Catalan electoral law reform
On Sunday, the daily newspaper Ara revealed that ERC and JxCat have agreed to reform parliament and introduce an electoral law for Catalonia as part of their negotiations over government formation.
The parties are seeking to combat the discourse of the far right in the chamber and defend "rights", although at the moment they have not specified how. At present, Catalonia does not have its own electoral law and is governed by Spanish state law.