Court orders provisional removal of banner backing jailed leaders
Torra faces November trial for refusing to take down signs asking for imprisoned officials' freedom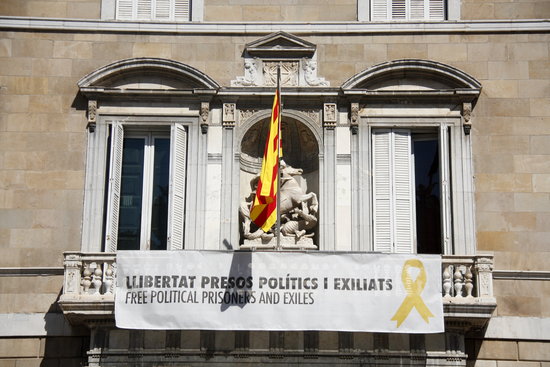 Spain's high court in Catalonia (TSJC) has ordered for the Catalan president to provisionally remove a banner on the government headquarters asking for the jailed leaders' freedom.
The judges have to decide on the legality of such sign hanging from a public building after a complaint by a unionist group, but while considering the case, they have ruled for it to be precautionarily taken down.
On Friday, the TSJC gave Torra 48 hours to remove it.
It is unclear whether the president will comply with the judges' orders because he is already facing a trial for refusing to do so.
Ongoing controversy
In the run-up to the general election in April, Torra initially resisted the order to remove the "partisan" yellow ribbon symbols in support of Catalan leaders charged over the 2017 independence bid from the government building during the electoral campaign period.
While Torra eventually complied with the order after the deadline he was given, replacing the symbols with a banner promoting freedom of expression, the prosecutor decided to charge the president with disobedience – his trial will be held on November 18.

Yet on May 27, in the wake of the electoral period, Torra's government hung the same signs again – this prompted the unionist civic group Impulso Ciudadano to take the issue to court.
At the organization's request, the TSJC has provisionally ordered the president to remove the banner from the government headquarters building while considering the underlying complaint from Impulso Ciudadano.
Torra refuses to remove banner
On Friday evening, the president responded with an official government statement saying that his lawyers would challenge the court order to remove the banner.
Arguing that the ruling is an infringement of the right to free expression, the statement also said that Torra will not comply with the ruling and intends to leave the banner where it is.
The statement justified the decision to defy the order by citing the government's and the majority of Catalan society's support for the jailed leaders.