'Concern' in Westminster over independence trial, says Welsh MP
Catalan foreign minister to give speech at London School of Economics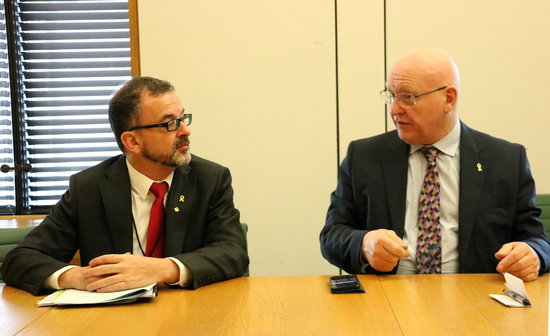 One of the Welsh nationalists MPs in the UK Parliament, Hywel Williams, has said there is "a great deal of concern" over the independence trial in Westminster.
Talking to the Catalan News Agency (ACN), he said it appears that "people are tried for their political views" in this process.
For him, the pre-trial imprisonments, "particularly" those of civil society leaders, are "unacceptable."
"We are surprised and disappointed that the new Spanish government haven't come out much more clearly in favor of democracy and human rights," he added.
"The charges seem to us to be entirely political in the nature rather than criminal."
Williams, president of the All-Party Parliamentary Group (APPG) on Catalonia, made these remarks after meeting the Catalan foreign minister, Alfred Bosch, who is in an official trip to London.