'Cold greeting' - New Catalan president meets Spanish king for first time
Pere Aragonès and Felipe attend economic forum in Barcelona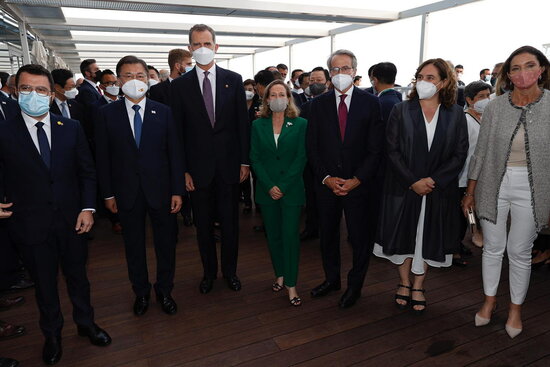 Catalan president Pere Aragonès briefly met Spain's king Felipe at an international economic conference held in Barcelona on Wednesday, thus marking the first time the pro-independence leader met with the monarch since being elected last month.
With the event being attended by Italian prime minister Mario Draghi and South Korea's president Moon Jae-In, the king's presence posed a dilemma for Aragonès: face potential backlash for being seen at a public event with the head of state, an unpopular figure especially loathed by the independence camp; or miss the opportunity to interact with world leaders.
In the end, and after his deputy declined to go, Aragonès decided to attend in person. According to government sources, he briefly coincided with the monarch, gave him a "cold greeting", and together they took a group picture with other political leaders.
With Felipe's visits to Catalonia often sparking protests and being boycotted by Catalan officials, the Spanish government welcomed Aragonès' actions as a "symptom" that his government has understood that "dialogue and working together" is the way forward.
Spain's finance minister Nadia Calviño, who also attended the forum organized by the Cercle d'Economia business group, said in a radio interview that she hopes the relationship with the Catalan government is "productive and constructive", leaving behind the political crisis caused by the 2017 bid to hold a referendum and separate from Spain.
Aragonès and other government officials stressed that they will attend those events best serving the interests of Catalonia, regardless of the monarch's presence.
A dinner held as part of the economic forum later on Wednesday night was skipped by Aragonès, but the presidency minister Laura Vilagrà attended on the government's behalf.
Vilagrà reportedly told the king that the Catalan executive aims to solve the independence conflict through dialogue, but also told him that 3,000 people in Catalonia face legal retaliation for their role in the independence push, and are either in prison, in exile, awaiting trial, or sentenced.