Catalunya en Comú wants 'credible' government proposal to resume budget talks
Left-wing party demands to see executive's plans for social spending before continuing negotiations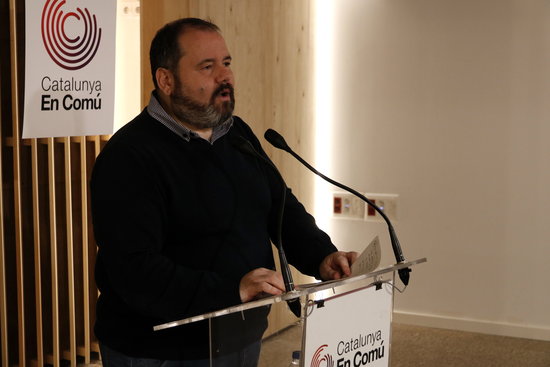 Catalunya en Comú has called on the government to provide a "credible" proposal for social spending as a precondition for resuming the talks on Catalonia's budget, after the left-wing political party broke off negotiations.
"We hope they give us a credible explanation of how they are planning to have sufficient revenue to fund the social spending that Catalonia needs," said party spokesman, Joan Mena, on Monday.
Mena also regretted that the governing pro-independence JxCat and ERC parties had rejected his party's proposals for raising more revenue with such initiatives as fighting tax fraud or tax reform.
The spokesman went so far as to demand the government's proposals "in writing," as there is the "feeling" in the party that on fiscal policy the government is closer to the Spanish parties on the right, such as PP or Cs, and "against improving people's lives."
Mena also accused JxCat and ERC of being "more concerned about internal struggles" than in finding a solution for the living conditions of the public.
The spokesman, who gave no deadline for the government to present its budget proposals, said his party wants to "guarantee" public services, the rights of Catalans, education, health, and dependency policy.
"The fight against segregation and social exclusion is not currently a priority of the government," said Mena.
Possible general strike
As for the possible general strike to coincide with the start of the trial of jailed pro-independence leaders, Mena said Catalunya en Comú "always supports mobilizations that reject state repression towards Catalonia," but he gave no further details. "We will look into how we can take part," he said.