Catalonia signs memorandum of understanding with Buenos Aires Province
Agreement seeks to foster cooperation and create a "stable and lasting relationship"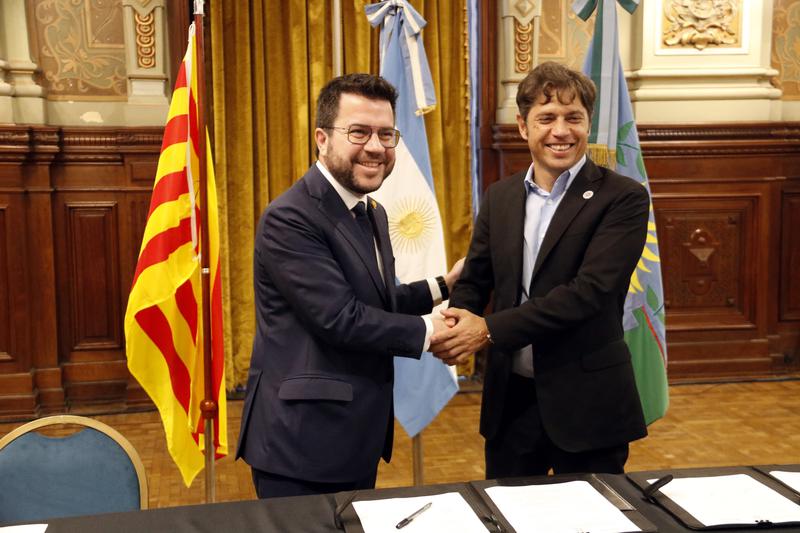 Catalan president Pere Aragonès signed a memorandum of understanding with the Buenos Aires Province governor Axel Kicillof Thursday morning Argentine time.
The agreement seeks to foster cooperation between both governments relating to matters including social and cultural affairs, education, gender, the 2030 Agenda, intelligent cities, sustainability, and more.
It also aims to create a "stable and lasting relationship" between Catalonia and the Buenos Aires Province, the country's most populous as it includes the capital's greater metropolitan area.
To do so, the territories will create a joint cooperation committee that will meet every two years.
The agreement signed by Kicillof and Aragonès, who is currently on a 10-day tour of South America, will be valid for four years and automatically renewed for two-year periods.
The Catalan government hopes to establish further agreements with other South American authorities, but described Buenos Aires as a "strategic partner" due to its historic and current ties with the region as well as its economic and geopolitical potential.
One of the largest Catalan communities abroad is in Argentina, a country that took in many republican exiles after the Spanish Civil War, while a significant number of Argentinians reside in Catalonia as evidenced, for example, by the massive World Cup Celebrations that took over Barcelona last December.
The Catalan president, who has been traveling with foreign minister Meritxell Serret, is set to make an offering to the statue of Catalan president Lluís Companys located at Buenos Aires' Plaza Catalunya square later on Thursday.
After stops in Colombia, where Aragonès' meeting with the Colombian president was canceled, as well as Argentina, and Uruguay, the Catalan politicians' trip will end in Chile.
Aragonès is set to meet with Chile's former president and United Nations High Commissioner for Human Rights between 2018 and 2022, Michelle Bachelet. She is also the winner of the Joan Alsina Human Rights prize awarded by Barcelona's Casa Amèrica cultural center.