Catalonia and Flanders call for EU 'integration' mechanisms for 'new independent states'
Torra and Jambon sign agreement promoting "peaceful self-determination" as a "basis for a political solution"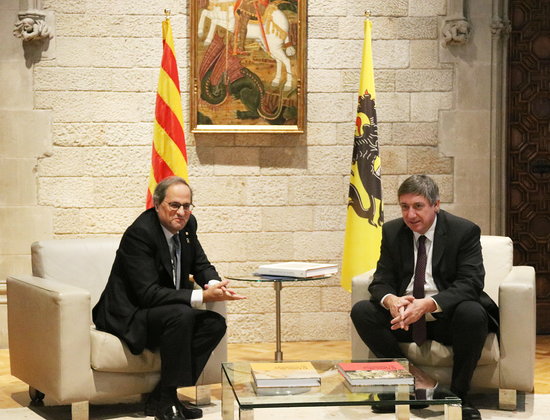 Catalan president Quim Torra and the president of Flanders, Jan Jambon, called on the European Union (EU) to offer "mechanisms that could allow the integration of new independent states born by democratic means."
This is the main point of an agreement signed by both political leaders on Saturday during a meeting held at the Catalan government headquarters.
The text also considers that an agreed referendum with Spain, similar to the one Scotland held in 2014, and "peaceful self-determination" must be the "basis" to resolve the "political conflict" that exists between Catalonia and Spain.
Torra and Jambon read a manifesto in the government building, highlighting the "continued success" of the cooperation between Catalonia and Flanders that began in 2008.
The Catalan president is convinced that "democracy is the way to gain freedom" as he considers these concepts "two sides of the same coin."
Quim Torra pointed out that the formula for exercising democracy in the 21st century "cannot be anything else but self-determination" because "the people's will is the first republican institution, and the second is to respect it."
Thus, the Catalan president has insisted on the need for Catalonia to have "an agreed referendum like that of Scotland" and added that this right to "peaceful self-determination" should be a "basic" premise to find a solution to the current situation.
For Torra, Europe should start "taking steps to recognize sovereign states" and offer a way for them to be a part of European matters. He urges the EU "to establish these mechanisms for the integration of states that will appear in the future and arrive in a democratic way."
The Catalan president thanked the Flemish people for their "solidarity." He considered the exiles "are in a good place" and highlighted the reception received by Carles Puigdemont and the rest of the pro-independence politicians who are living in the area.
Meanwhile, Jan Jambon, recalled that on 16 October, the Flemish Parliament approved a resolution promoted by Democrats and liberals calling for Catalan and Spanish executives to open a "political debate" to find a "peaceful and sustainable" solution. The text also encouraged the new European Commission to assume a "mediating role."