Catalonia aims to be at the forefront of Europe's digital future
Pere Aragonès wants Barcelona to "answer major challenges," as European Parliament president visits city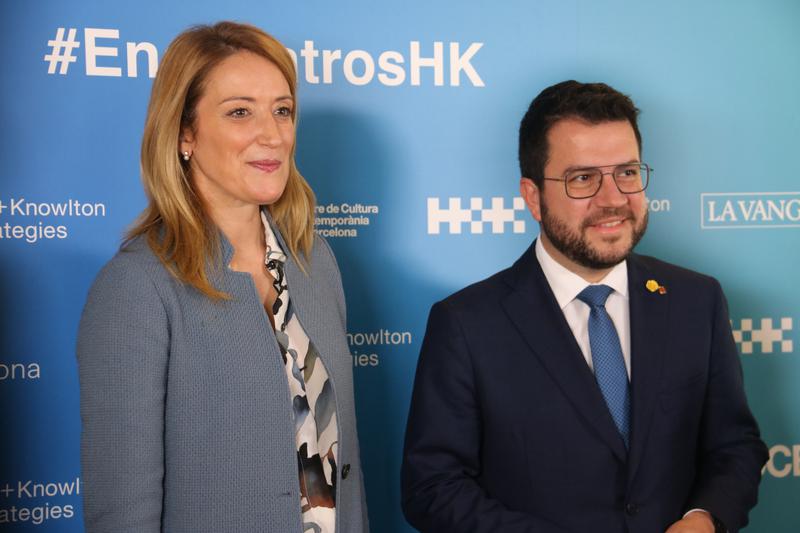 Catalonia and Barcelona want to be a central part of Europe's digital revolution, as the Catalan president, Pere Aragonès, said to the European Parliament president, Roberta Metsola, on Friday.
The Maltese leader visited the city as part of the closing day of the 'Barcelona, European digital capital' summit held at Barcelona's Contemporary Culture Center (CCCB).
"Catalonia is a territory open to Europe and to the world that wants to answer major global and European challenges," the head of the government added during a press conference.
Both politicians met a few minutes before entering the summit.
During his speech, Aragonès talked about Catalonia's willingness to "consolidate the European industrial activity relocalization," and therefore "recover global competitiveness," he said.
One of the examples he gave is the European semiconductor industry, an industrial boom that has already started and even in Catalonia, some companies have already opened their offices with investments worth millions.
"It is an ambitious project that will change the continent's competition system and Catalonia is willing to be part of the project and be at the forefront of this digital revolution," Aragonès said.
Metsola highlighted that even in the mid of a "changing and competitive landscape," Barcelona has "consolidated" its position as a European technological hub.