Catalan quota for streaming platforms of up to 6%: deal to pass Spain's 2022 budget
Commuter train network oversight and increased investment agreed between pro-independence Esquerra and Spanish government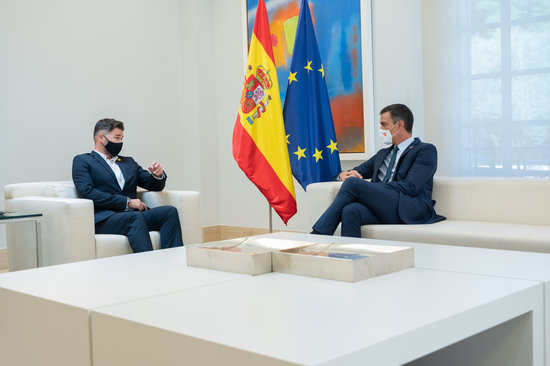 Spain's 2022 budget is set to be passed in Congress after the Catalan pro-independence party Esquerra confirmed its support on Tuesday, following a deal with the ruling Socialists.
The government in Madrid has agreed to introduce a 6% quota for Catalan, Basque and Galician language programming on streaming platforms such as Netflix, as well as financial aid to protect the languages.
This comes only one day after the Catalan government reached an agreement with En Comú Podem – the Catalan allies of the junior partner Unidas Podemos in the Spanish coalition government – to pass the 2022 Catalan spending plan, as well as next year's budget for Barcelona City Council, led by En Comú Podem.
The deal for the Barcelona and Catalan budgets was sealed by negotiators from Esquerra, despite criticism from their junior partner in the Catalan government, Junts, who head up the economy ministry and are therefore tasked with putting the budget together.
Deal in Spain
Esquerra agreed to give the necessary votes to the Socialists in order to pass the budget in congress in exchange for setting a 6% quota for the Catalan language in the forthcoming audiovisual law – affecting streaming platforms – and an extra €10.5 million to promote the creation of audiovisual content in minority languages spoken in Spain: Catalan, Basque and Galician.
Specifically, the audiovisual law will force companies such as Netflix, HBO and Amazon Prime to offer European productions in 30% of their content. Out of these, half of it has to be in languages spoken in Spain – this is 15% of the total, of which 40% has to be in Catalan, Basque or Galician. That is 6% of all films and series and 20% of the European content.
The agreement also includes other public investment, so that Catalonia sees its share in the overall expenditure raised from 17.2% to 19%, roughly its weight of Spanish GDP – the long-standing fiscal deficit complaint of pro-independence parties continued when the 2022 budget was presented, since the share for Catalonia was once again lower than its contribution to Spain's economy.
The possibility for Catalan Mossos d'Esquadra police officers and rural officers to retire earlier than usual and transferring the management of the commuter train network to the Catalan government – to be discussed from this month – are also part of the agreement.