Catalan proposal: Western Pyrenees, Tarragona and Ebre only regions to advance Phase on Monday
Minister Vergés says none of the health regions have a "high risk" of a new Covid-19 outbreak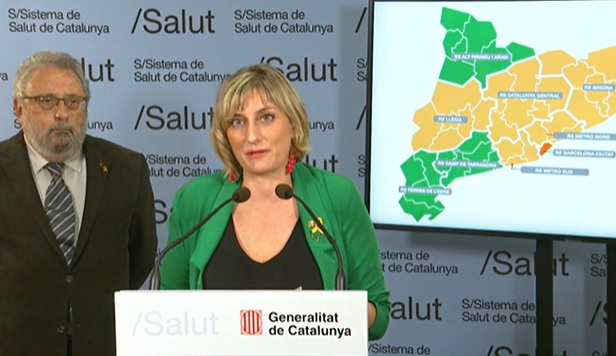 The Catalan government has decided that only three out of the nine health regions in the country are ready to move from Phase 0 to Phase 1 of the lockdown de-escalation plan.
In a press conference on Wednesday afternoon, the health minister, Alba Vergés, said that the Tarragona area (Camp de Tarragona), the western Pyrenees (Alt Pirineu i Aran) and the Ebre region (Terres de l'Ebre) are the only ones with a 'low risk' of a new Covid-19 outbreak.
They should, therefore, move to Phase 1 on Monday, May 11 – yet, it is for the Spanish government to ultimately decide whether Catalonia can be divided into health regions and not provinces in the lockdown ease, and whether to accept the Catalan proposals.
As for the other six regions, they will have to wait "a few more days," with Vergés saying that the fact that these regions should not move to the next phase on Monday did not necessarily mean another fortnight in Phase 0 for them.
No regions have 'high risk'
None of the nine health regions have a 'high risk' of another outbreak of Covid-19, according to the health minister, and the Public Health Secretary Joan Guix.
In addition to the low risk regions mentioned, Girona, central Catalonia, Lleida, and the North and South Barcelona metropolitan areas are classified as being at 'moderate risk' of a relapse.
Barcelona city was the only region classified as being at 'moderate-high risk.'
The Catalan proposal will be presented to the Spanish health ministry, who have the final say on the matter. Vergés said that they will hold a "bilateral" meeting to discuss their suggestions, and that she was confident that on Monday the three regions proposed by the Catalan executive will move on to Phase 1.
Probabilities of new outbreaks
The Public Health secretary Joan Guix gave the probability of a new outbreak in each of the regions, with anything more than 100 signifying a "high risk". The probability was based on various variables, including the capacity of the health system in each area.
Western Pyrenees: 8
Ebre: 18
Tarragona: 21
BCN metro North: 38
Central Catalonia: 46
BCN metro South: 58
Lleida: 60
Girona: 65
BCN city: 91